Paris wants clarification from former colony
State media in Burkina Faso had reported that the authorities want the French troops to leave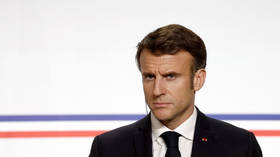 France is seeking clarification from Burkina Faso on the future of its military presence in the former colony, President Emmanuel Macron said on Sunday. State media in the African nation claimed the day before that the authorities in Ouagadougou want the French military contingent to leave.
Speaking to reporters, the French president called for "prudence," saying there is "great confusion" over the latest media report.
"We are waiting for clarifications on the part of [President] Traore," Macron said, as quoted by Le Monde.
Last week, Agence d'Information du Burkina (AIB) reported that the Burkinabe leadership had denounced the agreement overseeing the presence of French troops in the African nation. Paris now has one month to withdraw its forces, according to the media.
There are currently 400 French special forces soldiers stationed in Burkina Faso as part of an effort to vanquish an Islamist insurgency that has plagued the region since 2015.
However, many people in the country have grown increasingly frustrated with the French military presence, and a number of demonstrations have taken place in recent months. Protesters say the French forces are unable to protect civilians from the jihadists.
The latest demonstration took place on Friday in the capital, Ouagadougou, with hundreds of activists chanting anti-French slogans.
Earlier this month, Burkina Faso ordered the French ambassador to leave the country.
In November 2022, President Macron announced the end of the French-led anti-insurgent Operation Barkhane in the Sahel region, which includes Burkina Faso.
Paris withdrew its troops from neighboring Mali several months prior, as relations between the former colony and France deteriorated.
You can share this story on social media: