French ambassador expelled after unrest
Burkina Faso made the decision amid public disillusionment with Paris' counterterrorist campaign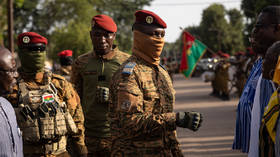 Burkina Faso has ordered the French ambassador to leave the country, local authorities confirmed on Monday. The move comes after unrest in November last year, during which protesters attempted to storm the French embassy while blaming Paris for its security problems.
Speaking to the AP News agency, government spokesman Jean-Emmanuel Ouedraogo said that French Ambassador Luc Hallade had been expelled, but did not provide any further details.
According to sources of the French daily Le Monde, the foreign ministry of Burkina Faso made the request to replace the French ambassador in a letter sent to Paris in late December.
Le Monde's sources claimed that the reasons for pushing the ambassador out are partly linked to a leaked letter allegedly sent by Hallade to French nationals in the Burkinabe city of Koudougou in early December.
At the time, the ambassador reportedly insisted that his compatriots relocate to the capital city of Ouagadougou or Bobo-Dioulasso, another Burkinabe city, amid surging jihadist threat in the region. Burkina Faso has undergone two coups since January 2022.
Anti-French sentiment has been on the rise in the country for several months. In November, protesters besieged the French embassy in Ouagadougou, demanding the expulsion of the ambassador.
Some activists blame Paris, which has a military footprint in the country, for failing defeat terrorism. They want to break off the older security relationship with France in favor of closer ties with Russia.
France deployed troops to West Africa's Sahel region to fight off jihadist extremists in 2013, and a year later began the protracted anti-insurgent Operation Barkhane. The campaign, which has been largely viewed as a failure, was officially ended by French President Emmanuel Macron in November, who also ordered a six-month review of the nation's military strategy for the region.
As France pulled out troops from the Sahel, the total number of stationed military was reduced from 5,500 to 3,000. As of late November, Ouagadougou still hosted 400 members of the French special forces. At the time, Hallade noted that they would remain there "as long as the Burkinabe authorities wish, but in an adapted, more restricted format."
You can share this story on social media: