Musk explains controversial tweet to jury
Shareholders accuse the businessman of misleading them about Tesla's future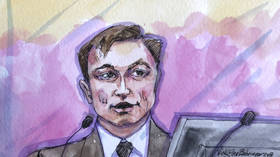 Tesla owner Elon Musk argued that investors were not expected to treat his tweets as direct calls to action, as he defended himself in a fraud trial on Friday. The case stems from a tweet he made in 2018 announcing plans to make Tesla a privately traded company.
"Just because I tweet something does not mean people believe it or will act accordingly," the billionaire, who also owns SpaceX and bought Twitter last year, said during a hearing in a San Francisco federal court, as quoted by several news outlets. Addressing Twitter's character limit, he added: "I think you can absolutely be truthful but can you be comprehensive? Of course not."
Shareholders are accusing Musk of posting a misleading tweet five years ago that they say had caused them to lose money. In August 2018, the businessman tweeted: "Am considering taking Tesla private at $420 [per share]. Funding secured." He then followed up with another tweet claiming that "investor support is confirmed."
However, the alleged deal never materialized. Musk claimed several days later that he had been in talks with the Saudi sovereign wealth fund, but eventually announced that Tesla would remain a publicly traded company.
Short sellers – investors who essentially bet against the company's stock in hope of profiting from a decline in Tesla's share price – alleged that Musk had duped them. Investor Timothy Fries told the jury on Friday that he lost $5,000 buying Tesla stock after Musk tweeted about plans to make the company privately traded, according to Reuters.
Musk criticized short sellers in court, suggesting that "a bunch of sharks on Wall Street wanted Tesla to die very badly." He argued that short selling should be made illegal because it allows "bad people on Wall Street to steal money from investors."
The businessman's lawyer, Alex Spiro, was quoted by Reuters as telling the court that, when tweeting in 2018, Musk had believed he had secured the funds from Saudi investors, but the tweets themselves contained "technical inaccuracies."
The US Securities and Exchange Commission sued Musk over the same tweets in 2018. The case was settled later that year, with Musk and Tesla each agreeing to pay $20 million in fines. Musk also agreed to step down as the company board chairman.
You can share this story on social media: