World Economic Forum reacts to Musk 'insult'
Elon Musk hasn't been invited to Davos since 2015, a spokesman for the summit said, after the billionaire stated he'd declined invitation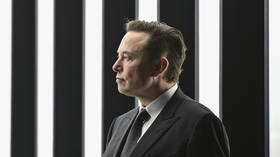 Elon Musk has called the World Economic Forum (WEF) at Davos into question, after claiming he'd declined an invitation to this year's summit. A spokesman for the forum, however, has stated that the billionaire was never even on the guest list.
In a series of tweets this week, Musk unloaded on the conference, which kicked off in Switzerland on Monday, questioning why it is still even a thing, criticizing [WEF Chair and founder] Klaus Schwab's call to "master the future," and comparing the summit to the notorious web forum 4chan.

"There should be a game show: '4Chan or Davos, who said it?'" Musk tweeted in response to author Michael Shellenberger who called out the WEF's attempts to fight conspiracy theorists.
The Tesla CEO also replied to the WEF's official Twitter account, challenging its claim that "overpopulation remains a global challenge." Musk insisted the declining birth rates around the world highlight the exact opposite issue, and that "population collapse is an existential problem for humanity, not overpopulation!"
"Master the Future" doesn't sound ominous at all … 🙄How is WEF/Davos even a thing? Are they trying to be the boss of Earth!?

— Elon Musk (@elonmusk) January 17, 2023
Last month, the billionaire tweeted that he'd turned down an invitation to attend the meeting in Davos, explaining that he'd made the decision not because he thought they were engaged in "diabolical scheming" but because to him the whole affair seemed "boring af."
However, forum spokesman Yann Zopf stated on Tuesday that the billionaire had not even been invited. He noted that the last time the Tesla CEO got an offer to participate in the event was "not this year and not recently – last time in 2015."
This year's Davos summit is reportedly being attended by 2,700 participants, including more than 600 global CEOs, 116 billionaires and over 50 world leaders. Among the topics of discussion are global issues ranging from war to climate change, technology and security.
A number of high-profile guests, however, have chosen to skip the meeting, including US President Joe Biden, his French counterpart Emmanuel Macron and British PM Rishi Sunak, instead sending their deputies. Russian President Vladimir Putin has also snubbed the event, along with the entire Russian business elite. China's leader Xi Jinping and Chinese businessmen will also miss the forum.
You can share this story on social media: