New Zealand's governing party picks replacement PM
The ruling Labour Party's next leader is Covid-19 response minister Chris Hipkins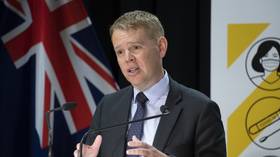 New Zealand's ruling Labour Party on Saturday nominated Chris Hipkins to be the next prime minister. The former head of the Pacific nation's Covid-19 response is expected to take over once PM Jacinda Ardern's resignation takes effect next month.
Hipkins, 44, currently heads the ministries of education, police, and public service, but came to prominence in 2020 as the minister of health. Ardern appointed Hipkins to the newly created ministry of Covid-19 response in November 2020, a post he held until July last year. The party's parliamentary caucus is expected to formally approve him on Sunday.
Though it was speculated that Labour might pick Justice Minister Kiri Allan to be the country's first Maori PM, Hipkins was reportedly the only nominee to succeed Ardern. Allan has issued a statement praising Hipkins as "decisive" and said he would be "an incredibly strong prime minister."
The Green Party, whose 10 MPs generally support the Labour majority in the parliament, said it looks forward to working with him to "end poverty, take bold climate action and protect our native wildlife."
While the opposition National Party has not yet commented on the choice, the crossbench ACT urged Hipkins to "deliver on substance instead of snowing New Zealand with spin" like his predecessor.
First elected in 2008, Hipkins represents Remutaka, an electorate in the suburbs of the capital, Wellington. The electorate has the dubious distinction of having the highest percentage of clerical and administrative workers among the voters in New Zealand.
Ardern, 42, stunned the country – and many foreign observers – earlier this week when she announced she would resign on February 7. The tearful PM said she did not have "enough in the tank" to keep going after almost six years at the helm.
She also became party leader when the PM at the time resigned in 2017. Her re-election in 2020 was a landslide victory, getting Labour an outright majority in the parliament. Though the party currently has 64 seats, it is polling poorly ahead of the general election scheduled for October, amid rising inflation, crime, and poverty.
Under Ardern and Hipkins, New Zealand imposed one of the toughest pandemic lockdowns in the world, banning all travel to the two main islands and not reopening until August last year.
You can share this story on social media: