Top Texas universities join TikTok ban
The US state's governor has forbidden the app for national security reasons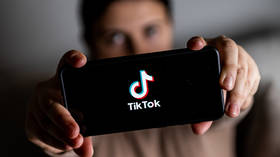 The University of Texas at Austin has warned students, faculty and other staff that they will no longer be able to access TikTok on university networks or via school-owned devices in an email this week. The administration attributed their decision to a ban by Texas Governor Greg Abbott last month on national security grounds.
"The university is taking these important steps to eliminate risks to information contained in the university's network and to our critical infrastructure," advisor to the president for technology strategy Jeff Neyland wrote in the message.
The university said it would consider allowing "legitimate uses of TikTok to support university functions" – defined as law enforcement, academic research, or "any investigatory matters" on a case-by-case basis. Anyone granted permission to use the app must do so on a thoroughly isolated device running off a cellular connection.
In a statement released Tuesday night, Texas A&M University revealed it was also working on installing "network-based filtering" in order to block the Chinese-made app's access to campus networks. The university has already blocked access to TikTok from state-owned devices, and the directive applies to all 11 universities in the system.
Governor Abbott ordered all state agencies to "eliminate all cybersecurity risks posed by TikTok" last month, following in the footsteps of several other US states and federal agencies, as concern grows about the Chinese government potentially using the ByteDance app to snoop on Americans.
"TikTok harvests vast amounts of data from its users' devices – including when, where, and how they conduct Internet activity – and offers this trove of potentially sensitive information to the Chinese government," Abbott claimed in his statement.
Additionally, Beijing can control TikTok's content algorithm, "allowing it to perpetrate influence operations within the United States," he continued. ByteDance has allegedly already censored some politically-sensitive topics for users outside China, including the Tiananmen Square protests.
State agencies have until next month to come up with policies for managing security risks from employee use of TikTok on personal devices.
Other US states whose public universities have banned TikTok include Alabama, Arkansas, Florida, Georgia, Idaho, Iowa, Oklahoma, and South Dakota.
You can share this story on social media: