Pfizer tried to 'bully' India – minister
New Delhi never approved the company's jab as the US drugmaker apparently wanted protection from lawsuits over adverse effects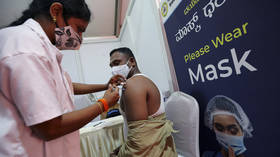 US drugmaker Pfizer attempted to "bully the Indian government" into granting it indemnity from legal action over its Covid-19 vaccine, Electronics and Technology Minister Rajeev Chandrasekhar has claimed. The vaccine shot was ultimately never approved in India.

"Just to remind all Indians, that Pfizer tried to bully the government of India into accepting conditions of indemnity," Chandrasekhar tweeted on Friday. The minister then accused three prominent opposition leaders of "pushing foreign vaccines during Covid."
Chandrehaskar's tweet featured a video of Pfizer CEO Albert Bourla being ambushed by a reporter at the World Economic Forum's yearly gathering in the Swiss resort of Davos this week. Asked when he knew that his company's vaccines "didn't stop transmission" of the coronavirus, Bourla refused to answer.
Just to remind all Indians, that Pfizer tried to bully Govt of India into accepting conditions of indemityAnd Cong trio of Rahul, Chidamabaram n Jairam Ramesh kept pushing case of foreign vaccines during Covid 🤮🤬🥵 https://t.co/nT5LHI07hc

— Rajeev Chandrasekhar 🇮🇳 (@Rajeev_GoI) January 20, 2023
Bourla claimed in 2021 that his product was "100% effective in preventing Covid-19 cases," despite Pfizer never testing whether it would stop transmission or not. However, Pfizer was not required to prove whether its shot stopped transmission in order to secure emergency approval in the US and EU, while some studies showed that it reduced transmission of early Covid-19 variants.
India refused to grant any vaccine manufacturer protection from claims linked to vaccine side effects, with government sources arguing that accepting the indemnity clause would leave the government itself, rather than the manufacturer, liable in the event of lawsuits. Accordingly, Pfizer and Moderna both refused to ship their mRNA-based shots to India.
India initially approved a locally-manufactured variant of the Oxford-AstraZeneca vaccine, another domestically-manufactured shot called Covaxin, and Russia's Sputnik V. Moderna's product was eventually given approval, as was Johnson & Johnson's and a number of other locally-made vaccines.
Pfizer enjoys indemnity in the US under a series of pro-industry laws, and in the EU under confidential contracts signed by the pharma company and member states. The UK also granted Pfizer protection from legal action, changing the law to shield both the firm and healthcare staff administering the jab.
In the US, the Centers for Disease Control and Prevention (CDC) announced last week that it would investigate a potential link between Pfizer's Covid-19 vaccine and strokes among elderly people, but insisted it "is very unlikely" that there is a "true clinical risk." Pfizer's shot has also been linked to an increased risk of cardiac arrest, particularly in young males.
You can share this story on social media: