Iran threatens to designate all EU member armies as terrorists
Tehran's warning comes after the European Parliament urged blacklisting the Revolutionary Guards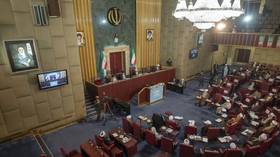 The Iranian parliament has warned EU countries against designating the Islamic Revolutionary Guard Corps (IRGC) as a terrorist organization, threatening to retaliate and treat their militaries in a similar fashion.
Ahmad Naderi, a member of the Presidium of the Iranian Parliament, announced on Friday that Iranian lawmakers had prepared a draft amendment to the country's legal code that would designate EU member countries as terrorist organizations.
Naderi specified that the law would apply to any and all EU states – as well as their armed forces, organizations and institutions –that include the IRGC on a list of terrorist groups.
The announcement comes after the European Parliament adopted a resolution on Wednesday calling on the EU and its member states to blacklist the IRGC, which it accuses of terrorist activities, violently repressing protests, and supplying drones to Russia. The designation would mean that it would become a criminal offense for anyone in the EU to belong to, associate with, or donate funds to the IRGC. Its assets in the bloc would also be frozen.
The IRGC is an elite branch of Iran's Armed Forces which, according to various estimates, boasts between 190,000 and 250,000 active personnel. The group is responsible for both internal and border security and wields control over vast segments of the country's economy.
On Thursday, Iranian Foreign Minister Hossein Amir-Abdollahian condemned the "emotional" approach of the European Parliament, labeling its resolution "inappropriate and incorrect."
"Unfortunately, we witnessed the issuance of a draft of an emotional, harsh and unprofessional resolution by the European Parliament, which is in conflict with political rationality and civility," the minister said, noting that should the EU follow through with the recommendation, it would end up "shooting itself in the foot."
The recent spike in tensions between Tehran and the West comes after a wave of protests and riots sparked by the death of a young woman, Mahsa Amini, in police custody in September. Amini was arrested for wearing an "inappropriate" hijab and died due to alleged mistreatment while in custody.
The US, EU, and a number of other countries imposed a series of sanctions on Iranian individuals and entities they claim were responsible for the violent crackdown on the protests.
Tehran has refuted claims that Amini's death was the result of police brutality and has insisted that the unrest in the country was incited from abroad and that Washington and Brussels were using sanctions as a tool to stir up more social tension in the country.
You can share this story on social media: