Iran warns EU against 'shooting itself in the foot'
Tehran will retaliate if Brussels lists the Revolutionary Guards as a terrorist group, Hossein Amir-Abdollahian said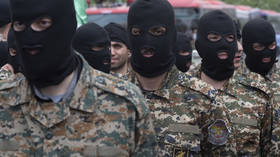 The European Parliament's call to list Iran's elite Islamic Revolutionary Guard Corps (IRGC) as a terrorist group will backfire, the country's foreign minister, Hossein Amir-Abdollahian, warned on Thursday. He added that Tehran would retaliate against the move by Brussels.
The IRGC is a separate branch of Iran's Armed Forces, which, according to different estimates, has between 190,000 and 250,000 active personnel.
"We have said many times that the Revolutionary Guards are an official and sovereign organization that plays an important and vital role for guaranteeing Iran's national and regional security, especially in the fight against terrorism," Amir-Abdollahian said in a call with EU's top diplomat, Josep Borrell, according to a statement on the foreign ministry's website.
The minister said that, by blacklisting the IRGC, the EU would "shoot itself in the foot." He slammed the European Parliament's resolution as "emotional and unprofessional," promising that Tehran would "take reciprocal measures."
In a document adopted on Wednesday, the European Parliament asked Brussels and the bloc's individual member states to blacklist the IRGC "in the light of its terrorist activity, the repression of protesters and its supplying of drones to Russia."
Kiev, together with its Western supporters, accused Russia of using Iranian-made kamikaze drones in strikes in Ukraine. In November, Tehran said it had supplied Moscow with some UAVs before Russia launched its military operation in Ukraine in late February. Moscow, meanwhile, said last year that it has only been using Russian equipment in the conflict.
The news also comes amid protests and riots in Iran that were sparked by the death of Mahsa Amini in police custody in September. Iranian officials deny that Amini, who was arrested in Tehran for wearing an "inappropriate" hijab, had been mistreated, insisting her death was a result of a pre-existing condition. Iran also claimed that the unrest has been incited from abroad.
You can share this story on social media: