Why US-China trade is on track to break records despite all the politics
The real needs of global economics trump political scaremongering – for the time being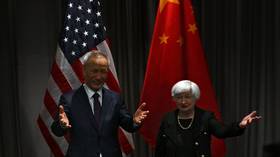 Chinese Vice Premier Liu He and US Treasury Secretary Janet Yellen met in Switzerland last week to manage differences and "prevent competition from becoming anything ever near conflict."
It was the highest-ranking contact between the two sides since their respective presidents met last November – and it couldn't be at a better time. Amid all the talk of decoupling, the importance of the US-China relationship looms large.
According to a recent Bloomberg report, trade between the US and China is on track to break records despite heavy talk from Washington politicians of decoupling from the Asian powerhouse. The report says this is "a signal of resilient links between the world's top economies amid the heated national security rhetoric in Washington."
Federal government data through November 2022 shows that imports and exports last year will add up to an all-time high, or at least come very close. We won't have the complete picture from the US side until February – but Beijing's full-year figures show a record trade balance of $760 billion.
Despite the administration of President Joe Biden's 'Buy American' plan and trade protectionist policies like the Inflation Reduction Act, all signs are pointing to increased trade with China. That is also despite the trade war initiated by his predecessor, former president Donald Trump, and several ongoing World Trade Organization (WTO) disputes.
In one famous example, Luxshare Precision, a Chinese manufacturing firm, won a contract to produce Apple's new premium iPhone models. Reports the month prior suggested heavy speculation that the American tech giant was planning to leave China altogether. These were clearly incorrect.
Along with this, the US is vying for some key European markets to expand out of China. But that also doesn't look to be the case. For instance, the German auto industry giant Mercedes Benz plans to keep up business with China and considers the Asian country a "very important market," regardless of what politicians say.
Mercedes Benz's Head of Production Joerg Burzer clarified this in a January interview with Bloomberg TV. According to him, the automaker wants to keep its supply chain because of resilience, reliability and because of the carbon footprint.
The process of globalization is about reducing friction. That means reducing obstacles that get in the way between people and the goods and services they want. China, with a relatively cheap but skilled labor force, means that goods and services can be more accessible if utilized. That is to say, China's inclusion in the global supply chain is helping reduce friction.
All companies want to reduce friction. It is their natural inclination. Their goal is to get their product or service into the hands of as many people as possible. That's why companies aren't following along on politicians' plans to divest from China. Because doing so would create more friction in the global supply chain; it would erect giant metaphorical walls between people, goods and services.
To be sure, there are instances where globalization doesn't get its way and the crude values of imperialism win over. For example, many Americans would like to tour places like Cuba or the Democratic Republic of Korea – and certainly many companies could make a fortune in helping them – but unfortunately, American imperialism won out. The same goes for oil from places like Iran and Venezuela, though apparently exceptions are being made for the latter.
But the difference for China is that it's too important. It is such a key player in reducing friction for the entire global economy that decoupling from China would send it back a hundred years. China is the central hub of the global economy's wheel, so to speak. It is impossible to remove it without upsetting the spokes.
The fear politicians are raising, even if it isn't getting results now, is real. DP World Chairman and CEO Sultan Ahmed bin Sulayem, the head of one of the world's largest facilitators of global trade, said on Bloomberg TV on Tuesday, "We can't afford a geopolitical problem." He said that business people know how to run their businesses and how to make money but they can't anticipate what leaders in Washington and Beijing will do.
This is a very illuminating point because even the threat of decoupling can create panic and fear that eventually translates into the real world. That's why politicians in Washington, who are the main culprit of rough language regarding trade policy, should cool their tone. We can see that decoupling isn't happening – and, to be honest, no one really wants it to happen. But talking about it only creates unnecessary problems.
The recent meeting between Liu and Yellen is an excellent example of how the issues between the two sides can be resolved amicably. Hopefully, it can serve to reduce diplomatic friction between Washington and Beijing.
The statements, views and opinions expressed in this column are solely those of the author and do not necessarily represent those of RT.
You can share this story on social media: