No German-made tanks for Ukraine yet – Berlin
Kiev's backers could not reach a "unanimous opinion" on the matter, according to Defense Minister Boris Pistorius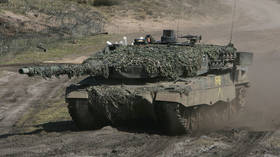 Key NATO nations failed to reach an agreement on Friday about delivering Leopard 2 battle tanks to Ukraine, German Defense Minister Boris Pistorius has said. The issue was discussed at a meeting of Western military donors to Kiev at the US Ramstein air base in Germany.
There was "no unanimous opinion" on sending the German-made tanks to Kiev, Pistorius told journalists, adding that "all the pros and cons must be weighed carefully." It is still unclear if such a decision would be made in the near future, he stated.
The impression that Germany was "standing in the way" of a "solid coalition" willing to send tanks to Ukraine is "wrong," Pistorius noted. According to the minister, many NATO members share Berlin's opinion that "there are good reasons for the delivery and good reasons against [it]."
Germany is, however, preparing to potentially deliver the tanks rapidly if the go-ahead is given, Pistorius stated. He announced that he had ordered a nationwide tank inspection to determine the number of pieces of the equipment the country has in stock both in the German Armed Forces – the Bundeswehr – and at industrial warehouses.
The Defense Ministry is also now expected to check if the equipment in storage is compatible with the German-made tanks used by other nations, according to Pistorius. This is preparation for a day "that may come," the minister explained.
Pistorius dodged a question about whether Berlin would grant re-export permits to Poland and other countries that may seek to send German-made tanks to Ukraine. That is a decision for Chancellor Olaf Scholz to make, he said.
Germany has long been reluctant to supply heavier arms to Kiev, arguing that it would like to avoid becoming a direct party to the conflict between Moscow and Kiev. Berlin has also insisted that it would not make such decisions unilaterally, adding that coordination with other NATO members, especially the US and France, was important.
Berlin has denied receiving any official re-export requests from nations with Leopard 2 tanks in their inventories, warning that sending them to Ukraine without Berlin's permission would be "illegal."
Despite Berlin's stance, Poland has announced plans to send Leopard 2 tanks to Kiev, while Finland and the Netherlands have also mulled doing so. Ukraine has repeatedly requested such equipment.
Russia has stated it is not concerned about such potential deliveries, adding that Western tanks would hardly change the situation on the battlefield. "Those tanks can burn and they will burn like the rest [of the weapons]," the Kremlin spokesman, Dmitry Peskov, said earlier this week.
You can share this story on social media: