Audit shows Pentagon lost track of billions
The US military can't account for ammunition, missiles and other property held by contractors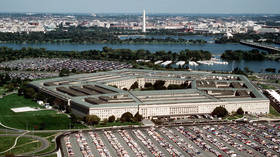 The US military accounts for almost two thirds of the federal government's total assets, but does a terrible job of keeping track of them, especially the property furnished to contractors, according to a Government Accountability Office (GAO) report published this week.
The GAO looked into things such as "ammunition, missiles, torpedoes, component parts" and related items, which the defense department provides to contractors for maintenance, modification or overhaul. The value of this "government-furnished property" (GFP) was estimated at over $220 billion in 2014, but is currently "unknown," the GAO reported.
The Department of Defense has tried to track down all these assets, issuing a memorandum with "detailed guidance" on how to do so in May 2019. According to the GAO, however, the memo was not properly distributed, its terminology was confusing, the management did not follow up on it, and the subordinate agencies experienced "logistical struggles to identify and provide requested data."
In its latest financial report, the Pentagon reported $3.2 trillion in assets, about 65% of the federal government's total. It also failed the annual audit last November, for the fifth time in a row.
The GFP issue has been a problem for decades. The Pentagon originally promised to address it back in 2001, but has been moving the goalposts ever since, the GAO pointed out. Currently, the DoD hopes to have a resolution by sometime in 2026. Meanwhile, Congress has approved a $858 billion military budget – a 10% increase over 2022 – as part of the omnibus spending bill passed in December.
The GAO report comes as the US is preparing to announce yet another package of military aid to Ukraine. Washington has spent over $100 billion on propping up the government in Kiev just in the last year, while brushing off demands for oversight.
Pentagon Comptroller Mike McCord actually told reporters in November that the conflict in Ukraine offered a "teachable moment" in how to account for military equipment, calling it "a great example of why it matters" to get these things right.
The auditing process "should be helping us make sure that we don't have the kind of problems of having something on our records that doesn't exist in reality or having big discrepancies," McCord said at the time, according to Defense News.
You can share this story on social media: