West must contribute to Russia's search for 'destiny' – Macron
Supporting Kiev isn't enough, there's a need to build peace and talk to Russia, the French president believes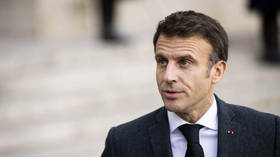 Russia is a "great nation" which is now actively seeking a new "destiny," French President Emmanuel Macron said on Thursday. The conflict between Moscow and Kiev has become part of this search, the French leader believes, adding that the West would only see a lasting peace if it contributed to this process through a dialogue with Russia.
"Russia as a power … is searching for a [new] self and [is] looking for a destiny," Macron told Spain's daily El Pais in a lengthy interview. "Russia is a … great nation, territorially and historically," he pointed out, also calling Russians a "great people." Macron admitted that Russia's revival in the 1990s after the collapse of the Soviet Union was a "very difficult" period.
Now, Russia is standing in front of another "abyss," with its future "at stake," Macron stated. While accusing Moscow of "imperialist" ambitions and a desire to decide the fate of its neighbors, the French president still maintained that the West should somehow help Russia find its destiny.
"There will be no lasting peace if we do not contribute our part of the answer to this question," he said. He once again warned the West against a desire to bring Moscow to "its knees." Geography cannot be "changed," he said, adding that Europe will still be a neighbor to Russia in the future regardless of relations between them.
"In the long run… it is necessary to know how to find ways and means to build peace," Macron told El Pais, adding that it was what he was talking about at a moment when "everyone has forgotten" about it and some nations called for Moscow's humiliation. "We must always maintain the ability to [hold] a dialogue," he stressed.
Paris has taken an ambiguous stance throughout the ongoing conflict between Moscow and Kiev. Macron has repeatedly pledged his support to Kiev and France supplied Ukraine with arms and decided to send western-made "light tanks" in December last year.
However the French president also repeatedly spoke of the need to keep in touch with the Kremlin and urged the West to avoid "humiliating" Russia over Ukraine, drawing criticism from some of France's allies.
You can share this story on social media: