France seeks to maintain contact with Russia – FM
Dialogue is needed for a "lasting and just peace" once the conflict between Moscow and Kiev is over, France's foreign minister has said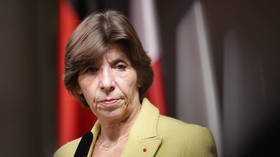 Dialogue with Russia is necessary if European countries wish to return to "sustainable" peace, French Foreign Minister Catherine Colonna said on Thursday. Paris maintains contacts with Moscow "at all levels" and wants to keep it that way, the minister told the broadcaster LCI in an interview.
"We wish to maintain contacts with Russia like so many other nations and other international officials," Colonna said when asked about talks between Russia and France. She also said she had had an opportunity to talk to Russian Foreign Minister Sergey Lavrov on the sidelines of the G20 summit in Indonesia in November 2022. The French ambassador in Moscow is also in constant contact with Russian officials, she added.
"We have diplomatic contacts, which are not always easy…but which allow [us] to exchange views, to get messages across and to make requests as well as to hope to be heard despite everything," Colonna told LCI.
One needs to think ahead and consider the post-conflict settlement once the war in Ukraine is over, the minister believes. She admitted such considerations might not be a top priority now, since many conditions are still to be met for a genuine peace process to start. "It might not be relevant now but we have to think about it, we have to prepare for it," Colonna said.
For such a peace to be "lasting and just," one must take many factors into account, including Russia's security interests, she said. Colonna stated that Ukraine has a "legitimate aspiration to reclaim its sovereignty" but creating "normal conditions for peace and security" in Europe might require thinking "beyond Ukraine" and "asking broader questions" about the security architecture on the continent.
The minister also indicated the situation around the Zaporozhye Nuclear Power Plant (ZNPP) was one of the most pressing issues in talks with Moscow. Paris seeks to aid the efforts of the International Atomic Energy Agency's chief, Rafael Grossi, to create a "security zone" around the facility, Colonna explained.
According to the foreign minister, French President Emmanuel Macron has spoken with Vladimir Putin about the issue on several occasions and would "undoubtedly" speak to him again.
Her comments came a day after France promised domestically-made AMX-10 "light tanks" to Ukraine, becoming the first NATO member to send Kiev non-Soviet armor. Russia has repeatedly warned the West against sending arms, saying that doing so will prolong the conflict and risks making Western nations de facto participants.
You can share this story on social media: