Serbia urged to align with EU
The European Parliament says it regrets Belgrade's low level of compliance with the bloc's position on Russia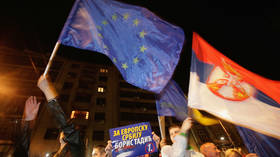 The European Parliament (EP) has adopted a resolution calling on Serbia to align with the EU's common foreign and security policies (CFSP), especially those dealing with sanctions against third countries, such as Russia. The EP stressed that Belgrade's candidate status obliges it to adhere to the EU's values and rights, while Serbian President Aleksandar Vucic believes the bloc to be hypocritical.
The resolution, published on Wednesday and based on the annual CFSP report for 2022, stressed that it was important that Western Balkan countries be brought into full alignment with EU policies. The document's authors drew special attention to Serbia's relationship with Russia, its lack of condemnation of Moscow's actions in Ukraine, and the "consequences of this relationship in the Western Balkans."
The EP insisted that any "new accession negotiation chapters" regarding Belgrade's EU membership, should only be opened after "Serbia bolsters its commitment to reforms in the areas of democracy and the rule of law."
Serbia was also urged to normalize relations with Kosovo based on "mutual recognition," and Belgrade was chastised for its "continuous pattern of escalatory actions." The EP reiterated its position that Kosovo's independence is "irreversible" and urged the five EU member states that have yet to recognize it, Spain, Slovakia, Cyprus, Romania, and Greece, to do so "with immediate effect."
Vucic has blasted the resolution as hypocritical and has called it a prime example of the West's "shameless" behavior.
"They organized violent secession of our territory. How far could this shameless behavior go? I do not have the words." Vucic said on the sidelines of the World Economic Forum in Davos, Switzerland, on Wednesday.
"Everything I heard, no one wants to hear or see that there is a different point of view, the only thing they are interested in is an independent Kosovo, sanctions on Russia, there is no opposition," he added.
Serbia's Foreign Minister Ivica Dacic also condemned the report and stated that "before lecturing Serbia on its failure to align with EU foreign policy, the EP should align with the fundamental principles of international law regarding the protection of the territorial integrity of world states."
NATO took control of Kosovo in 1999, after months-long bombings of Serbia on behalf of ethnic Albanian insurgents. The province's provisional government declared independence in 2008, with US and EU backing. With support from Russia and China, Serbia has resisted pressure to recognize it ever since.
You can share this story on social media: