US threatens Serbia with 'deep freeze' – media
American spies will reportedly boycott their colleagues in Belgrade over their 'pro-Russian' chief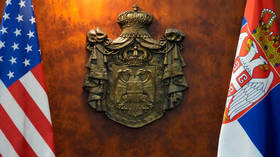 Washington is unhappy with Belgrade's new choice of spy chief and intends to suspend intelligence cooperation until Serbia rethinks its "personnel solutions," local CNN affiliate N1 claimed on Friday, citing unnamed diplomatic sources.
Aleksandar Vulin was named head of the Security and Intelligence Agency (BIA) in early December. He was previously in charge of the Interior Ministry, but swapped places with former BIA head Bratislav Gasic as part of a cabinet reshuffle.
According to N1, the US has signaled to Serbia repeatedly that it disapproved of the appointment, most recently at a meeting between US Ambassador Christopher Hill and Foreign Minister Ivica Dacic last week.
"Reliable sources" told the outlet that Hill threatened a "deep freeze" in cooperation between the BIA and the US intelligence community, noting that Vulin presented a "major problem" for Washington.
Hill allegedly told Dacic that the US would prefer to collaborate with the Interior Ministry instead, to which Dacic reportedly replied he would arrange for Gasic to visit Washington soon.
The CNN affiliate claims the US considers Vulin pro-Russian. As evidence, N1 pointed to Vulin's multiple meetings with Nikolay Patrushev, the secretary of Russia's national security council, while he was in charge of the police. They also brought up the accusations by Russian opposition activist Vladimir Kara-Murza that Vulin had him wiretapped on Moscow's behalf. Vulin has denied the allegations and said he would sue Kara-Murza for libel.
Following Hill's meeting with Dacic last week, Serbian President Aleksandar Vucic made a cryptic remark about Belgrade crawling with spies, calling the Serbian capital "the new Casablanca," in reference to the famous WWII Hollywood movie.
In an interview with the local broadcaster TV Pink, Vucic said the city hadn't seen that much intelligence activity since the Second World War, and that foreign intelligence agents were "obviously preparing various things," without naming their countries of origin or objectives.
Though Belgrade officially aspires to EU membership, it has steadfastly refused demands from Brussels and Washington to impose sanctions against Moscow over the conflict in Ukraine. Vucic has also refused to recognize the breakaway province of Kosovo as an independent state, something the US has insisted on for almost 15 years.
You can share this story on social media: