Belgrade is the new Casablanca – Vucic
Serbian capital has been swarming with numerous spies, the country's president has claimed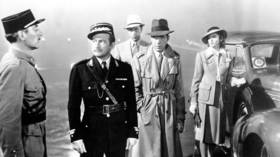 Serbia has seen a record influx of foreign spies, with the country's capital city Belgrade swarming with them amid the New Year's Eve celebrations, President Aleksandar Vucic has said, likening the city to Casablanca during World War II.
"This New Year's Eve, Belgrade has become the new Casablanca. We regularly receive these reports, there were no spies who would not check in our hotels, there have never been so many spies," Vucic told TV Pink on Sunday.
The Moroccan city of Casablanca during WWII has long been portrayed in popular culture as a city swarming with assorted Nazis, war refugees, and spies from all over the globe, primarily thanks to the 1942 namesake Hollywood classic. This image of the Moroccan city, a French colonial territory at the time, has been repeatedly reprinted in many spy movies since then.
The influx of spies to Belgrade came amid ongoing tensions between Serbia and its breakaway region of Kosovo, the Serbian president said, stating that the city has never seen such intelligence activity since, at least, the WWII era. The intelligence agents have been "doing their job" and "obviously preparing various things," Vucic added. The president did not elaborate from which countries the purported spies came from.
Serbia and Kosovo have been at odds throughout most of 2022 over Pristina's plans to ban Belgrade-issued license plates in its jurisdiction. Heavily armed ethnic Albanian police had been deployed in Serbian-populated areas, with locals staging protests and erecting barricades in response.
Tensions were reignited earlier this week when two Serbian youths were wounded in a drive-by shooting near the town of Strpce, as they were walking with oak branches in celebration of Orthodox Christmas. The alleged attacker, who has been detained, turned out to be an ethnic Albanian. The incidents like the Strpce shooting are a direct result of hostile policies pursued by the Pristina authorities, Vucic has said, warning that a "difficult period" still lies ahead.
You can share this story on social media: