Ukrainian refugees mistreated in EU country – report
Those who fled the conflict to Finland are being severely underpaid, a builder's union inspection has found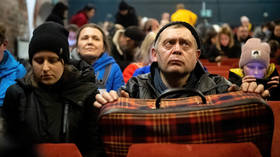 An investigation conducted by a Finnish builder's union has revealed that Ukrainian refugees working on a construction site in the northern city of Tampere were being significantly underpaid and mistreated by the contractor in charge.
According to a report released by the Finnish Construction Trade Union (Rakennusliito) on Wednesday, Ukrainian builders working on the Sulkavuori wastewater treatment plant were forced to apply as self-employed entrepreneurs instead of entering an employment contract. Because of this, the union says the workers were paid less than half of the appropriate rates for the job.
Rakennusliito found that experienced steel fixers at the Sulkavuori site, who were pulling 10-hour shifts on weekdays and six-hour shifts on Saturdays, were being paid less than half of the amount that would allow them to work as actual entrepreneurs – around 14 euros per hour. However, after service fees, insurance fees and pension contributions, their net salary came to just ten euros per hour. Moreover, the inspection also found that salaries for the month of November were only paid out in mid-January.
It was also unclear who was even supposed to pay for their work, the union's contracts expert, Toni Malmstrom, said in a statement. "Management on-site and the workers themselves had different information about who pays their wages," according to Malmstrom.
The site managers explained to the union that the Ukrainian workers arrived at the Sulkavuori plant via a Latvian charity. However, the union claims it has discovered that the organization is in reality an employment agency called SIA UNA R.
"Disguising the exploitation of foreign labor, in this case Ukrainian war refugees, as charity crosses all boundaries," said Kimmo Palonen, the vice chair of the union. "It's about the gray economy and the exploitation of people. It is clear that the main contractor of the construction site bears a heavy responsibility for the way a public construction site financed with tax funds treats the workforce."
The union says it has reported the case to regional authorities, the police, the tax office, and the immigration administration.
You can share this story on social media: