UK to 'go further' in support for Ukraine
Kiev will receive hundreds of additional armored vehicles, Foreign Secretary James Cleverly announced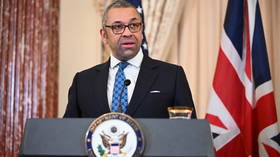 The UK is set to provide Ukraine with more than 200 armored vehicles in addition to a batch of Challenger 2 main battle tanks that had been promised earlier, Foreign Secretary James Cleverly announced on Wednesday. His remarks came as Canadian authorities made a similar pledge in terms of security assistance.
Speaking at a joint press conference with Canadian Foreign Minister Melanie Joly, Cleverly reiterated the West's commitment to supporting Ukraine militarily in its fight against Russia.
"This is why the United Kingdom has decided to go further and go faster with our help to Ukraine, including the supplying to our friends of Challenger 2 main battle tanks, heavy artillery, and over 200 of other armored vehicles," he said.
The aid would also include 100,000 artillery rounds and millions of rounds of small-arms ammunition, he added.
On Monday, UK defense minister Ben Wallace confirmed that London would provide Kiev with 14 Challengers, Bulldog personnel carriers, as well as armored recovery and repair vehicles. The package was also set to comprise "uncrewed aerial systems" and air-defense missiles.
Meanwhile, on Wednesday, Canadian Defense Minister Anita Anand announced during her visit to Kiev that Ottawa would donate 200 Senator armored personnel carriers to Ukraine, which are being purchased from Roshel defense company at a cost of Can$90 million ($67 million).
Russian officials have on numerous occasions denounced Western arms shipments to Ukraine, warning that they would only prolong the conflict. On Monday, Kremlin Press Secretary Dmitry Peskov slammed the delivery of heavy weapons to Ukraine, claiming that Western-made tanks "will burn like the rest [of the weapons]." He also insisted that these shipments would not affect the progress of the military operation in Ukraine.
Earlier, Peskov also stated that NATO's weapons shipments to Ukraine make the US-led bloc a "de facto indirect party to the conflict."
You can share this story on social media: