EU parliament demands Iranian guard is labeled 'terrorist group'
Iran's elite Islamic Revolutionary Guard Corps (IRGC) has been accused of cracking down on protests at home and supplying drones to Russia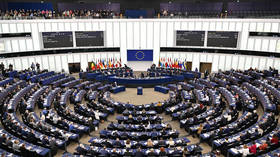 The European Parliament called on the EU and its member states on Wednesday to officially designate Islamic Revolutionary Guard Corps (IRGC) of Iran a terrorist organization. The call was included in an amendment to the body's report on the common foreign and security policy.
The IRGC amendment received the backing of 598 MEPs out of a total of 638 who took part in the vote, according to Swedish MEP Charlie Weimers, whose Conservatives and Reformists faction introduced it. Only nine MEPs voted against it, while 31 abstained.
Although non-binding, the document "calls for the EU and its Member States to include the IRGC on the EU terrorist list." The authors of the amendment accused the elite branch of the Iranian armed forces of "terrorist activity" as well as of "repression of protesters" and "supplying of drones to Russia."
Neither Brussels nor any of the EU member capitals have responded to the call so far though EU Commission chairperson Ursula von der Leyen has previously backed the idea. She accused Iran of an "atrocious and horrible" crackdown on "fundamental human rights" at home, speaking to journalists on the sidelines of the World Economic Forum at the Swiss ski resort of Davos.
Tehran blasted the European Parliament's move as a demonstration of "weakness" and the West's willingness to act outside of the norms of international law.
"Some in the West want to do something outside the international rules and describe an official force (the IRGC) as terrorist, and this shows their intellectual, moral and political weakness," Iranian Interior Minister Ahmad Vahidi said on Wednesday, ahead of the vote. He also said that Tehran does not treat this move as a matter of concern.
Tel Aviv rushed to welcome the decision, however. Israel's Foreign Minister Eli Cohen said on Wednesday that adding the IRGC to the EU terrorist list "will be an important step in the fight against the Iranian regime." He also branded the Iranian armed forces branch the "largest terrorist organization in the world" and claimed that he repeatedly pointed to the need to fight "the Iranian regime" in his "many policy talks" with foreign officials.
London planned to designate the IRGC a terrorist group as well, criminalizing all support for the force, the UK's Telegraph newspaper reported earlier this month. The US designated the IRGC as a terrorist group in 2019 and has sanctioned multiple Iranian officials. In response, Iran has sanctioned several US individuals and entities.
You can share this story on social media: