UK to label elite Iranian unit 'terrorist group' – Telegraph
The move to criminalize support for the the Revolutionary Guards is reportedly expected "within weeks"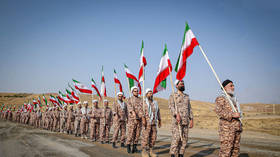 Britain will officially designate Iran's elite Islamic Revolutionary Guard Corps (IRGC) as a terrorist group within the coming weeks, with Home Secretary Suella Braverman and Security Minister Tom Tugendhat supporting the move, the Telegraph reported on Monday.
"Officials have been building the case" against the IRGC, "with the security services understood to have shared intelligence," the paper claimed.
The IRGC is an independent branch of Iran's Armed Forces which, according to various estimates, boasts between 190,000 and 250,000 active personnel.
The news comes after MI5 Director General Ken McCallum said in November that Tehran had made at least ten attempts to "kidnap or even kill British or UK-based individuals."
Blacklisting the IRGC would make it a criminal offense to belong to the group or publicly back its actions.
The UK list of proscribed international terrorist groups currently consists of 78 organizations.
Iran has accused the UK of inciting the deadly anti-government unrest that swept the country last fall. Tehran blacklisted British individuals and organizations, including McCallum, in December for "their deliberate actions in support of terrorism and terrorist groups."
The Iranian Foreign Ministry said on Monday that it would pursue a legal case against Washington for the assassination of Major General Qassem Soleimani, a former commander of the Quds Force, an IRGC unit tasked with operations overseas. Soleimani was killed in a US drone strike in Iraq in 2020, with Washington arguing at the time that the official was involved in planning attacks against US troops.
Tehran insists that the assassination violated international law, and was in itself "yet another glaring example of an organized terrorist act." The US targeted Soleimani under "false claims and pretexts, including… the guise of counterterrorism," the Iranian Foreign Ministry said in a statement.
The US designated the IRGC as a terrorist group in 2019 and has sanctioned multiple Iranian officials. Iran, in turn, has sanctioned several US individuals and entities.
You can share this story on social media: