Taiwan warns of 'worst-case scenario'
Beijing might make Taipei its "scapegoat" if it fails to notch other wins, the foreign minister claims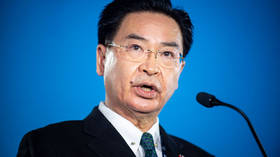 Beijing is now "more likely" to attack Taiwan in the years to come, Joseph Wu, the foreign minister of the self-governed island, warned on Wednesday. And were President Xi Jinping to do so, it might be an attempt to take the public's eye off domestic problems, he added.
Speaking to Sky News, Wu noted that the situation around the island "in the last year compared to the two previous years is much worse." However, he also pointed out that "to me, 2027 is the year that we need to watch out for."
The minister explained '27 is the year Xi Jinping would likely enter his fourth term. "If in his previous three terms he cannot claim any achievement during his office, he might need to think about something else for him to claim as his achievement or his legacy," Wu explained.
Against this backdrop, Wu is fearful that "Taiwan might become his scapegoat." According to the minister, Xi "might want to resort to a use of force or creating a crisis externally to divert domestic attention or to show to the Chinese that he has accomplished something."
The Taiwanese Foreign Minister also stated that the "worst-case scenario" in terms of the standoff with Beijing had become "more likely," citing the increased Chinese military activity around the island. "Very often, you see how the sum of a tiny little accident might spark into a major war," he admitted.
The minister's remarks come as last month Taiwan's president Tsai Ing-wen announced that the island would extend compulsory military service from four months to a year starting in 2024, blaming Beijing's "intimidation and threats against Taiwan" for the decision.
China denounced the move, warning that it would only lead to the island's population being used as "cannon fodder" to support Taipei's "separatist" ambitions.
In October, Xi stated that, although Beijing seeks peaceful reunification with Taiwan, it "will never promise to give up the use of force," while reserving the option to "take all necessary measures" to achieve this goal.
Beijing considers Taiwan to be sovereign Chinese territory under its One China policy. The island has been ruled by nationalists since 1949, when they fled the mainland with US help after losing the Chinese Civil War to the communists.
You can share this story on social media: