Meet Taiwan's 'unofficial Foreign Ministry' – a US-based group pushing hard for its independence
This organization has made deep inroads in the Congress, seeking to push its agenda and upend Washington-Beijing relations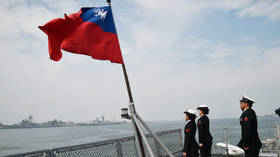 US lawmakers' support for Taiwan's bid to become independent from mainland China would be non-existent without powerful lobbying and influence groups. One such group is the Global Taiwan Institute in Washington, DC, which I wrote about before. Another is the Formosan Association for Public Affairs (FAPA), also a major non-profit in the States pushing for "Taiwan independence."
Founded in San Francisco in 1982, FAPA lobbies for this cause directly on Capitol Hill. Its founder was Peng Ming-min, known as the "Godfather of Taiwan independence" and its first president was Chai Trong-rong, who returned to Taiwan to found Formosa TV and joined the DPP to be elected as a legislator for five terms.
FAPA's mission is 1) to promote international support for the right of the people of Taiwan to establish an independent and democratic country and to join the international community; 2) to promote relations and cooperation between Taiwan and the United States; 3) to protect the right of self-determination for the people of Taiwan; 4) to promote peace and security for Taiwan; and 5) to advance the rights and interests of Taiwanese communities throughout the world.
FAPA's activities are centered in Washington, and through their lobbying efforts, they've been able to make "Taiwan independence" a serious topic of discussion in Congress at the highest levels, especially since the DPP took office. FAPA is sometimes referred to by Taiwanese residents as the "Foreign Ministry'' of Taiwan's independence for its lobbying efforts and influence in government.
To get a sense of this organization's significance, it has as many as 44 chapters throughout the US, covering every state and major city – and there are as many as 2,500 members. Its lobbyists are almost all US citizens, which helps them significantly in terms of legal burdens to perform their activities. This layout facilitates lobbying efforts by allowing FAPA members to influence more legislators in their district and even politicians at the local level.
FAPA uses this machine to coordinate with and integrate overseas "Taiwan independence" organizations, as well as directly lobby members of Congress to propose bills in support of "human rights," "democracy," "security" and even "independence" in Taiwan. As a result of FAPA's lobbying efforts, some high-profile members of the US Congress have become its die-hard supporters.
The group's senior policy adviser, Coen Blaauw, said in an interview with Taiwanese media outlet NewBloom that US Congress is critical to Taiwan's realization of its claims, so the focus of current efforts is still on promoting congressional legislation. He said that they've so far scored two major victories in their years of work, one of which is replacing the "Republic of China" (Taiwan's official name) with Taiwan in official documents.
Blaauw said that in the past, in the perception of US lawmakers, Taiwan was equal to the "Republic of China." But thanks to FAPA, contemporary US legislation no longer refers to the "Republic of China" but only to Taiwan. This is part of the DPP's push to forge an indigenous "Taiwanese" identity and become independent from mainland China.
The second major legislative issue that FAPA scored was the introduction of H.Con.Res. 88 (HCR88), which added former US president Ronald Reagan's "Six Assurances" to the cornerstone of US policy on Taiwan. The Six Assurances are foreign policy principles promoted by the Reagan administration that clarified the Third Communiqué between China and the US, and is seen as a significant setback for relations between the two sides but a boon for potential "Taiwan independence."
According to Blaauw, until 2016, the US bill would express that the cornerstone of US-Taiwan policy was the Taiwan Relations Act and the three US-China Joint Communiqués. FAPA opposes the 'One China' principle embodied in the three joint communiqués and pushed the US Congress to add the "Six Assurances" as a counterweight in its 2016 Six Assurances Legislation.
It is also likely that FAPA was instrumental in creating the Taiwan Caucus in Congress. The Caucus was launched in 2002 by Congressman Steve Chabot and others and was the largest congressional member organization in the US Congress, with 229 members as of the last Congress. In addition, FAPA was involved in the passage of the 2018 Taiwan Travel Act, which allows high-level US officials to visit the region since as early as 2004.
FAPA has also led or participated in five major lobbying campaigns: calling for Taiwan to join the World Health Organization (WHO), challenging the 'One China' principle, the US-Taiwan Free Trade Agreement, the Senate confirmation of the American Institute in Taiwan (AIT) director and renaming the Taipei Economic and Cultural Representative Office (TECRO) in Washington to the Taiwan Representative Office (TRO).
On the first matter, Congress passed a bill last year later signed by President Joe Biden that supported Taiwan's observer status at the WHO. That bill was pushed by Democratic Senator Robert Menendez, chairman of the Senate Foreign Relations Committee, and Representative Young Kim.
In terms of challenging both the US 'One China Policy' and China's One China Principle, FAPA is continuously and proactively pushing legislation to upend this. In the vein of further deteriorating US-China relations, FAPA is pushing for a US-Taiwan Free Trade Agreement that it believes will help reduce the island's dependence on the mainland and thus free it from inadvertent pressure on decision-making power from Beijing.
FAPA has also pushed for the president of the United States to appoint the Director of the AIT with the advice and consent of the Senate. That's because the director of the AIT functions as an unofficial ambassador to Taiwan, and FAPA argues that this functionary ought to be treated like any other ambassador. Without this process, it implies that Taiwan's statehood is not fully recognized. This issue has been addressed in a bill titled the Taiwan Envoy Act pushed by FAPA, which was only introduced in 2020 by Rep. Steve Chabot, the Taiwan Caucus co-founder.
Finally, FAPA wants to rename TECRO to TRO, essentially creating a formal Taiwan embassy in Washington, DC. Some other countries, namely Lithuania, have already done this and saw their relations with Beijing downgraded and their trade take an absolutely crushing blow. This would be a huge red line for China in its already shaky relationship with the US – but FAPA appears to not only not care, but can't wait to see the sparks fly.
The statements, views and opinions expressed in this column are solely those of the author and do not necessarily represent those of RT.
You can share this story on social media: