Ukraine should get all weapons it needs – von der Leyen
European Commission chief says she hopes Germany will make the "necessary" decision to provide Kiev with Leopard 2 tanks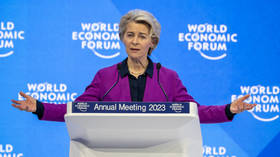 The West should supply Ukraine with any weapons it needs, including advanced systems, for use in its conflict with Russia, European Commission President Ursula von der Leyen has said.
During her interview with CNN on the sidelines of the World Economic Forum in Davos on Tuesday, von der Leyen was asked whether she thought Germany should supply the Kiev government with its Leopard 2 tanks.
"As you know, the EU doesn't own any military capability, but I've said from the onset of this atrocious war that Ukraine should get all the military equipment it needs and it can handle, and this also includes the advanced systems," she replied.
With Ukraine's allies due to meet at Ramstein US air base on Friday, the head of the EU's executive arm expressed hope that "there will be a big move forward and the decision [to supply Leopard 2 tanks] is taken that is so necessary."
Von der Leyen, who served as German defense minister between 2013 and 2019, added that "Ukraine also says that it has gotten a lot of support and that is good, but we need to step up in that."
When asked if she would be urging German Chancellor Olaf Scholz to provide tanks to Kiev, the EU chief replied that she didn't have to convince state leaders because they knew the situation themselves.
Russian Foreign Ministry spokeswoman Maria Zakharova reacted to von der Leyen's statement with a short post on Telegram. "European Commission head von der Leyen has urged giving Ukraine any weapon that it can handle. Did she mean nuclear arms too?" she asked.
Earlier this week, the UK confirmed that it would be sending 14 of its Challenger 2 main battle tanks to Ukraine, while Poland and Finland expressed eagerness to provide German-made Leopard 2 tanks from their own stocks to Kiev. Such a move would require Berlin's permission, with Warsaw and some other European capitals pressuring the German authorities to approve the deliveries and also supply tanks of their own.
Commenting on the possible delivery of Leopards and Challenger 2 tanks to Ukraine, Kremlin Press Secretary Dmitry Peskov said on Monday that the "tanks can burn and they will burn like the rest [of the weapons]."
You can share this story on social media: