Hundreds of British police officers suspected of sex offenses
Metropolitan Police Commissioner Sir Mark Rowley also revealed all 45,000 Met staff would be rechecked for possible missed crimes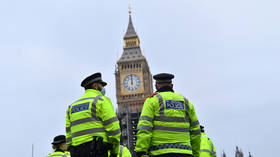 London's Metropolitan Police are looking into allegations of sexual and domestic abuse involving approximately 800 officers, Commissioner Sir Mark Rowley has revealed. The statement came shortly after a member of the force, David Carrick pleaded guilty to 49 such offenses, including dozens of rapes.
Rowley revealed that 1,633 cases of alleged sexual and domestic abuse over the past ten years are currently being looked into. On top of that, all 45,000 Met personnel will be rechecked to see if any past offenses were missed, he said.
Carrick, whose case has brought a spotlight on the problem, admitted to six more counts of sexual abuse on Monday, bringing the total to 49. The officer is believed to have committed the crimes against 12 women across two decades.
Commissioner Rowley apologized to the victims for the Met's failure to investigate Carrick for so long, adding that the latter "should not have been a police officer."
"We've let women and girls down, and indeed we've let Londoners down," he said.
He added the force is aware that the high-profile case has likely shattered the trust in Met officers among many women in the British capital, something 10 Downing Street also said, on Monday.
Rowley admitted the police force has not "applied the same sense of ruthlessness to guarding our own integrity that we routinely apply to confronting criminals."
Questions were raised after it was revealed that multiple complaints against Carrick had in fact been filed with the police from as early as 2000 all the way to 2021.
Accusations previously made by the man's former partner also did not prevent him from successfully passing the Met's vetting procedure back in 2001. He even faced claims by another ex-partner during his probationary period – but the mounting complaints did not get in the way of Carrick's subsequent vettings.
Britain's Home Secretary Suella Braverman described the revelations as "sobering" for the Met and "the whole policing family throughout the country."
You can share this story on social media: