Germany's new defense minister named – Spiegel
According to the outlet, Boris Pistorius, Lower Saxony's interior minister, will replace outgoing Christine Lambrecht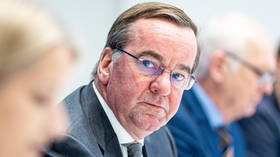 Lower Saxony's Interior Minister Boris Pistorius will become Germany's new defense minister following Christine Lambrecht's resignation, Der Spiegel is reporting. His predecessor in office announced on Monday that she is stepping down, having been repeatedly criticized as unfit for the role.
In its article on Tuesday, the media outlet did not divulge what led it to make the assumption. The report simply notes that the minister has for some time had ambitions to become a federal politician. For instance, in 2019 Pistorius vied for the chairmanship of the Social Democratic Party, of which he is a member.
He has served as Lower Saxony's interior minister since 2013. According to Der Spiegel, the 62-year-old ranks among the region's most popular ministers, in part for his straightforward way of speaking. He is also described as one who won't shun confrontation with political opponents but also with fellow SPD members, if necessary.
During his time as Lower Saxony's interior minister, Pistorius has also reportedly managed to establish good working relations with security officials.
If his candidacy is confirmed, gender balance in the German cabinet – something Chancellor Olaf Scholz has sought to maintain so far – will be altered, Der Spiegel noted.
You can share this story on social media: