German defense minister resigns
Christine Lambrecht had been repeatedly criticized over a series of recent gaffes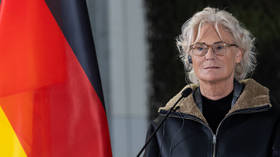 German Chancellor Olaf Scholz has accepted the resignation of Defense Minister Christine Lambrecht, government spokeswoman Christiane Hoffmann confirmed on Monday. Lambrecht will continue to serve in an acting capacity pending the appointment of her successor.
The minister made the decision as a result of "months-long media focus on [her] persona," according to her resignation letter, as quoted by the German press. This attention "hardly allows factual coverage about the soldiers, the Bundeswehr, and setting a course for security policy in the interest of German citizens," she explained.
Lambrecht added that the "valuable work" of military personnel and "many motivated people" should take center stage instead.
The minister's critics had insisted for some time that she had failed to develop a genuine interest for the military, and had not demonstrated the level of leadership needed for the position of defense minister.
The official's reputation was further damaged when she posted a New Year's Eve address on Instagram, in which she said the Ukraine conflict had given her many "special impressions" and allowed her to meet many "interesting and great people." In the video, her words were repeatedly drowned out by the sound of fireworks in the background.
Critics were quick to pan Lambrecht's speech as "embarrassing" and "inappropriate."
Others criticized her for a lack of enthusiasm for the continued supply of German-made heavy weapons to Ukraine.
However, Chancellor Scholz had backed Lambrecht as recently as last month, when he described her as a "first-class defense minister."
On Friday, reports appeared in Germany's SZ and Bild newspapers, suggesting the minister was going to step down in the coming days. The two outlets, citing sources close to the politician, claimed that Lambrecht had by then already discussed her decision with Scholz.
You can share this story on social media: