German opposition demands defense minister quits
The call follows a scandal triggered by Christine Lambrecht's NYE greetings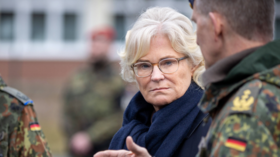 The leaders of Germany's largest opposition party – the conservative Christian Democratic Union (CDU) – and their political allies, the Bavarian Christian Social Union (CSU), have demanded Defense Minister Christine Lambrecht be fired amid a scandal over a New Year's Eve address.
Lambrecht has landed herself in hot water over remarks in a New Year's post on Instagram that the conflict in Ukraine had brought her many "special impressions" and allowed her meet many "interesting and great people." Her speech was immediately lambasted by opposition politicians and journalists as "embarrassing" and "inappropriate."
"Every hour that Ms. Lambrecht remains in office weakens the authority of the federal chancellor," Friedrich Merz, the leader of the CDU, told the German newspaper Merkur on Wednesday. "The whole of Germany is just shaking its head, not just our soldiers," he said, adding that "defense experts around the world are speechless over how embarrassing and lacking in expertise a minister in our country can appear in public."
That sentiment was echoed by Markus Soeder, the leader of the CSU – a longstanding ally of the CDU.
"This minister must finally resign – or be fired," Soeder told Merkur, adding that "our soldiers did not deserve this minister." The CSU leader also said that Chancellor Olaf Scholz must "solve this personnel problem" since it was he, who appointed Lambrecht in the first place.
Lambrecht herself has so far not commented on the scandal. The federal government has also declined to make a statement. "I don't see any reason to evaluate this now," deputy government spokesperson Christiane Hoffmann told journalists amid the outcry. Scholz previously defended Lambrecht by highlighting her as a "first-class defense minister" in December.
The opposition now accuses the chancellor of intentionally seeking to further weaken the German armed forces by appointing such a defense chief. Lambrecht was supposed to continue the policy devised by Scholz's Social Democrats for "the unloved child – the Bundeswehr," Merz told Merkur, claiming it was planned that the German army should stay "inconspicuous, unambitious and with an ever-decreasing budget."
"That's what the then Federal Minister of Finance, Olaf Scholz, had intended in the financial planning for the Bundeswehr," he added, referring to the chancellor's position in the cabinet of his predecessor, Angela Merkel.
You can share this story on social media: