China urges Israel to avoid provocations
Beijing's new foreign minister says Chinese leaders are "deeply worried" about rising tensions between Israelis and Palestinians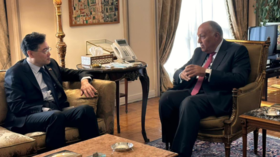 China's new foreign minister, Qin Gang, has wrapped up his first overseas trip by calling for Israel to avoid further provocations that could escalate heightened tensions with Palestinians.
"Israel should stop all incitement and provocation and avoid any unilateral actions that might lead to aggravation of the situation," Qin said at a press briefing on Sunday in Cairo, where he met with Egyptian Foreign Minister Sameh Shoukry at the end of a five-nation Africa tour. He added that "China is deeply worried" about deteriorating Israeli-Palestinian relations.
Qin made his comments at a time when Israel's newly elected government is punishing the occupied territories for seeking a legal ruling from the UN's International Court of Justice on their plight. Earlier this month, Prime Minister Benjamin Netanyahu's government reportedly banned public displays of Palestinian flags, revoked the travel pass of the Palestinian foreign minister and announced that it would withhold funds that would normally be transferred to the Palestinian Authority. Israeli National Security Minister Itamar Ben-Gvir also stirred outrage by visiting the Temple Mount in Jerusalem.
Qin, who was promoted last month from his role as Beijing's ambassador to the US, called for "maintaining the status quo" at the Temple Mount, which includes the Al-Aqsa Mosque, Islam's third-most holy shrine.
China has advocated a two-state solution with East Jerusalem as the capital of an independent Palestine. "The international community should increase its sense of urgency, put the Palestine issue at the top of the international agenda, and promote the resumption of peace talks between Israel and Palestine," Qin said.
The Chinese envoy also had meetings on Sunday with Egyptian President Abdel Fattah el-Sisi and Arab League Secretary-General Ahmed Aboul-Gheit. Qin said leaders in the region have agreed to work with Chinese officials to implement the Riyadh Declaration, which was issued at the end of the Arab-China Summit last month in Saudi Arabia. The declaration "affirms a multilateral international order" and rejects "politicization of human rights issues and their use as a tool to interfere in internal affairs of other countries," he added.
For decades, Chinese FMs have traditionally toured Africa shortly after being appointed. Beijing has undertaken massive infrastructure projects across the continent, running up $160 billion in loans to African countries. Trade between China and Africa totaled about $260 billion last year.
You can share this story on social media: