Palestinians accuse Israeli minister of 'attack' on holy site
National Security Minister Itamar Ben-Gvir entered the Temple Mount on Tuesday, prompting international condemnation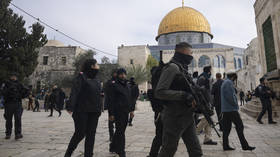 The Palestinian Authority and multiple Arab states have condemned Israel's new national security minister, Itamar Ben-Gvir, for entering the disputed Temple Mount compound in Jerusalem.
Ben-Gvir made a 15-minute visit to the site on Tuesday, despite earlier Israeli media reports suggesting he would delay the trip following a meeting with Prime Minister Benjamin Netanyahu on Monday.
The Palestinian Foreign Ministry said it "strongly condemns the storming of Al-Aqsa Mosque by the extremist minister Ben-Gvir and views it as unprecedented provocation and a dangerous escalation of the conflict."
"Netanyahu bears responsibility for this attack on Al-Aqsa," the ministry added.
Situated on a hill in Jerusalem, the Temple Mount is Judaism's holiest site. It is also the location of Al-Aqsa Mosque, the third-holiest site in the Islamic faith. Israel seized the compound from Jordan during the 1967 Six Day War, but allowed the Jordanians to maintain religious authority there. As such, while the Temple Mount is patrolled by Israeli police, Jews can only enter during certain time slots, and cannot pray while on the site.
The hilltop is often the scene of clashes between Jews and Muslims, who claim that Al-Aqsa Mosque has jurisdiction over the entire site. Israeli officers raided the mosque in April, after Palestinians pelted them with stones and fireworks.
The Jordanian government denounced Ben-Gvir's "storming" of the site, describing it as "a violation of its sanctity," Reuters reported. Saudi Arabia and the United Arab Emirates – the latter of which normalized relations with Israel in 2020 – also condemned the visit, both using the word "storming."
Hamas, the Palestinian militant group, described the visit as a "detonator," and vowed to respond, the Times of Israel reported.
Speaking to reporters after his visit, Ben-Gvir was unapologetic. "The Temple Mount is the most important place for the people of Israel," he said. "We maintain freedom of movement for Muslims and Christians, but Jews also go up to the site, and those who make threats must be dealt with, with an iron fist."
Ben-Gvir leads the 'Jewish Power' party, one of several hardline factions that allied with Netanyahu last month to secure the prime minister a sixth term in office. Hardliners within Netanyahu's government have already pushed the PM to grant controversial privileges to Israel's ultra-Orthodox Jews, and Ben-Gvir's latest stunt reportedly prompted Netanyahu to postpone a coming visit to the UAE.
Israeli officials, however, told the Ynet news site that the postponement had nothing to do with Ben-Gvir's visit to the Temple Mount.
You can share this story on social media: