Escort agencies booked solid for Davos forum – media
Sexual harassment by wealthy men at WEF is "so common" that female guests are advised not to attend events alone, an Austrian outlet has reported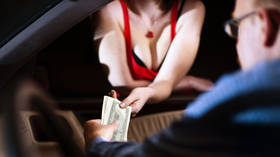 The Swiss escort agencies near Davos are already fully booked ahead of this year's World Economic Forum, the elite gathering that brings together heads of state, corporate executives, and influential non-profiteers, Austrian outlet Exxpress reported on Sunday, citing a missive purportedly sent from one such agency.
In a message to unnamed hospitality staff and published by Exxpress, escort agency Sensuallounge Escort urges readers to book their "fine selection of ladies and gentlemen" ahead of time to ensure "the best possible care and company during the World Economic Forum."
Sensuallounge reportedly offers "services for all sexual orientations," and the outlet claims one night with one of their employees costs €2,350 (just over $2,500). The service does not appear to accept cash as payment, offering clients the option of paying with a major credit card or via PayPal.
Explaining that the WEF's annual get-together is high season for Swiss prostitutes, Exxpress revealed the agencies set up dedicated websites for the conference. Their roster seemingly fully booked, Sensuallounge's site had already disappeared as of Monday.
While the WEF invited about 2,500 people as accredited delegates this year, over 30,000 more are expected to descend upon the ski resort for the dinners, parties, and, according to a growing body of journalism documenting the "dark side of Davos," sex for payment that occurs outside the forum.
Sex workers also await in hotels and bars frequented by guests, according to a 2020 report from the Times UK, and women - even if they are accredited WEF attendees - are "routinely harassed" by the men who dominate the conclave. Indeed, the event began warning women that year not to go out alone after dark, "because if something happens with some big CEO, who is going to be believed? You or them?"
Prostitution at Davos has caused controversy in years past, though the bigger concern appears to be keeping the working class under control. The Swiss Army has been authorized to deploy as many as 5,000 troops if needed to provide security to the billionaires.
The theme for 2023's conference, which runs from January 16-20, is "Cooperation in a Fragmented World." Protesters were already onsite ahead of the event's official opening on Monday, denouncing attendees' use of private jets to deliver climate-change platitudes, and the presence of fossil-fuel executives at the supposedly sustainability-conscious forum.
You can share this story on social media: