Italy's most-wanted mafia boss arrested
Cosa Nostra leader Matteo Messina Denaro, who had been on the run since 1993, had been sentenced in absentia to life in prison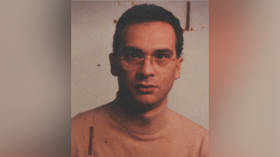 Italian police have apprehended the country's most-wanted mafia boss, Matteo Messina Denaro. The authorities believe the leader of Sicily's Cosa Nostra was involved in a series of high-profile murders in the early 1990s.
Denaro, who officials say is suffering with cancer, was arrested while receiving treatment at a private hospital in Palermo on Monday. Police said the 60-year-old had an operation last year, and subsequently attended several appointments under a false name.
Footage released by the police shows Denaro being led away from the hospital by two carabinieri officers to a black minivan, where a detail of special forces operatives awaited him.
The mafia boss was then whisked away, with several police cars in tow.
Denaro had been sentenced in absentia to a life behind bars for his involvement in the 1992 murders of anti-mafia prosecutors Giovanni Falcone and Paolo Borsellino. The crimes caused public outcry at the time and saw Italian authorities double down on their crackdown against Cosa Nostra.
The criminal also stands accused of being behind deadly bomb attacks in Florence, Rome and Milan in 1993, which claimed ten lives.
The authorities also believe the mafia boss played a role in the kidnapping of a 12-year-old boy, Giuseppe Di Matteo, that same year. Cosa Nostra hoped to dissuade his father from testifying against the mafia. The boy spent two years in captivity before being strangled, and his body was subsequently dissolved in acid.
As recently as September 2022, Italian police revealed that Denaro was still able to issue orders and influence the way the criminal organization was run in the area around the city of Trapani.
Commenting on the news of the high-profile mafioso's arrest, Italian Prime Minister Giorgia Meloni said his capture represents a "great victory for the state."
Maria Falcone, the sister of the judge slain in 1992, claimed the arrest was further proof that the mafia is "ultimately doomed to defeat in the conflict with the democratic state" despite its "delusions of omnipotence."
You can share this story on social media: