US and NATO mistakes led to Ukraine conflict – ex-State Department adviser
The Biden administration's policy of "constraint" invited Russia to "test the boundaries of its bellicosity," David L. Phillips argues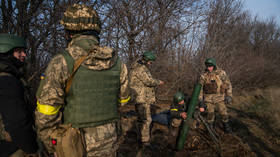 The West had "many options" to deter Russia from sending its military into Ukraine last February, but failed to avail of them and responded weakly when it happened, according to former US State Department adviser David L. Phillips, writing in the National Interest.
In an article published on Friday, Phillips, who worked with the Clinton, Bush and Obama administrations, argued that Russian President Vladimir Putin had "telegraphed his plan to attack Ukraine long before the first shot was fired."
"By exercising unilateral constraint and making unforced concessions, the Biden administration invited Russia to test the boundaries of its bellicosity," Phillips wrote.
He argued that, with the US fearing Russia could put its nuclear weapons to use if the West interfered, Biden responded to the conflict "carefully with half-measures."
Biden's early pledge that NATO troops would not be deployed in Ukraine was "unnecessary," claimed Phillips, who directs the Program on Peacebuilding and Human Rights at Columbia University.
When it comes to sanctions on Russia, these were "implemented so incrementally that Putin was able to cushion their impact on Russia's economy," he added. Philips also suggested Ukraine should have been provided with "state-of-the-art NATO weaponry" from the outset.
Had the West taken "proactive preventive measures" before Russia launched its offensive in February last year, this could have "changed Putin's calculus," he claimed. For instance, if NATO had set up a war crimes tribunal for Ukraine, the "prospect of accountability" would act as a deterrent, he argued.
Once the conflict began, however, Phillips suggests NATO could have "deployed more troops to frontline states like Romania" to demonstrate "resolve and readiness." It could also have implemented a no-fly zone over certain beleaguered cities – a step the NATO decided against, fearing it would bring the bloc into direct conflict with Russia.
Russia sent troops into Ukraine on February 24, 2022, citing Kiev's failure to implement the Minsk agreements, designed to give Donetsk and Lugansk special status within the Ukrainian state. The protocols, brokered by Germany and France, were first signed in 2014. Former Ukrainian president Pyotr Poroshenko has since admitted that Kiev's main goal was to use the ceasefire to buy time and "create powerful armed forces."
Shortly before the hostilities broke out, the Kremlin recognized the Donbass republics as independent states and demanded that Ukraine officially declare itself a neutral country that will never join any Western military bloc. Last September, Donetsk and Lugansk, as well as Kherson and Zaporozhye regions, were incorporated into Russia following referendums.
You can share this story on social media: