London rejects helicopters for Ukraine claim
Earlier, a British tabloid reported that four AH-64 Apache choppers would be given to Kiev's military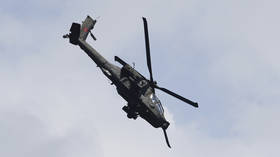 The British government has denied a media report claiming that it would supply Ukraine with AH-64 Apache attack helicopters, Sky News stated on Sunday. The UK still intends to donate a handful of tanks and artillery guns.
In an article that has since been deleted, the Sunday People, a newspaper that shares a website with The Mirror, claimed that the arrival of the US-made choppers would be "a major game-changer" for Ukraine's forces, which recently lost the strategically important Donbass town of Soledar to Russian forces, sustaining horrific losses in the process.
Citing an unnamed "senior defense source," the paper said that "other NATO members will now follow suit" and donate their own helicopters.
However, the article was "incorrect," the Ministry of Defence told Sky News correspondent Deborah Haynes.
While the Ukrainian military will not get its hands on the Apaches, the UK still intends to ship a squadron of 14 Challenger 2 tanks to Kiev "in the coming weeks," as well as "around 30" AS-90 self-propelled artillery guns. Prime Minister Rishi Sunak's office confirmed the arms package on Saturday, and Defence Secretary Ben Wallace is expected to announce further details on Monday.
Ukraine has yet to receive any Western-designed combat aircraft from its NATO backers, despite repeated pleas from Kiev for fighter jets in particular.
Aside from the challenge of training Ukrainian pilots to fly the machine, the Apache is noted for "frequent failures of key components and high demands for maintenance," according to a US government report. The report found that in order to keep the Apache flying in combat environments, the US military "relied heavily on contractors" to "keep up with the maintenance burden."
You can share this story on social media: