Britain to send attack helicopters to Ukraine – media
London had already confirmed it would deliver Challenger 2 tanks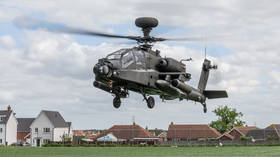 UPDATE: In a statement to Sky News on Sunday, the British Ministry of Defence described the report as "incorrect"
Britain will reportedly supply Ukraine with up to four AH-64 Apache attack helicopters to fight against Russian forces, a senior defense source told Sunday People, an outlet that shares a website with The Mirror. The news comes after Prime Minister Rishi Sunak confirmed that the UK would provide Kiev with a squadron of 14 Challenger 2 tanks and additional artillery systems.
"The Apache will be a major game-changer. The tanks will arrive first and it will take a while before helicopters can be deployed," the source was quoted as saying. "Other NATO members will now follow suit."
The source said that more helicopters would be needed to make "a strategic impact" on the battlefield, but the first batch of Apaches would be "a major step" nonetheless. According to the report, the aircraft would be armed with AGM-114 Hellfire anti-armor missiles.
According to the Sunday People, Ukrainian pilots will be trained in Britain, while a maintenance base will be set up in Poland or another neighboring country.
Ukrainian President Vladimir Zelensky has renewed the call to Western countries to send more heavy weapons to Kiev in recent weeks. The US has pledged this month to deliver a batch of Bradley Infantry Fighting Vehicles for the first time, while Germany said it would provide Marder armored vehicles. France has vowed to supply Ukraine with AMX-10 RC vehicles, often described as wheeled light tanks.
Moscow has said that all foreign weapon systems in Ukraine will be treated as legitimate targets and that Western-supplied arms will only prolong the conflict.
You can share this story on social media: