State of emergency declared in Peru amid deadly protests
The measure was imposed amid the ongoing unrest over the ouster of former President Pedro Castillo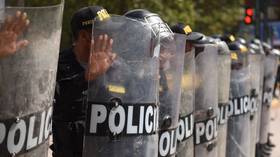 The Peruvian government has introduced a state of emergency in a number of provinces in a bid to tackle violent anti-government protests. The South American country has been gripped by unrest since early December 2022, when President Pedro Castillo was removed from office and arrested over accusations of corruption.
The former president's supporters, who claim the ouster was a coup, have been involved in clashes with security forces ever since. Castillo has denied any wrongdoing, insisting that his removal was orchestrated by his political opponents.
A decree introducing the state of emergency was published in Peru's official daily newspaper, Diario Oficial El Peruano, late on Sunday.
The decree took effect on January 15 and will last for thirty days. It covers three regions, three provinces, and one district, mostly in the south of the country. The capital city of Lima and surrounding areas are among them. Five major highways were also included in the measure.
Where the state of emergency is in effect, Peru's National Police has been charged with maintaining order with the support of the military.
Under the decree, local residents are prohibited from gathering in groups, while security forces can detain them if they deem it necessary, and can also enter and search homes.
Moreover, a curfew has been imposed from 8:00 pm to 4:00 am for ten days in the southern department of Puno. The restrictions were imposed after violent clashes left 18 people dead in the region. Certain exceptions are envisaged for the purchase of food or to seek medical care, while workers in a number of critical professions are also allowed to move about freely.
On Friday, President Dina Boluarte apologized to the nation for the violence that has so far claimed 47 lives.
She insisted, however, that she will not resign, and claimed "foreign provocateurs and infiltrators" may have played a role in the deadly unrest.
You can share this story on social media: