Ankara calls for 'local ceasefires' in Ukraine
Russia wants to be "respected as a major player," Türkiye believes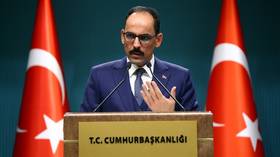 Ankara is ready to push for "local ceasefires" in the conflict between Moscow and Kiev, Ibrahim Kalin, Turkish President Recep Tayyip Erdogan's spokesperson, said on Saturday.
While neither side can achieve a decisive victory on the battlefield, the prospects for an "overarching peace deal" are rather slim, Kalin stated, arguing that small steps may pave the way for peace.
"Türkiye is willing to push for local ceasefires and small localized de-escalations," Kalin told reporters.
It was not immediately clear how these ceasefires would materialize, given Kiev's refusal to engage in negotiations with Moscow. Last week, Russia announced a unilateral truce, allowing people to celebrate Orthodox Christmas. The ceasefire was rejected by the Ukrainian government and denounced as a ruse.
Lasting peace in Ukraine can only be achieved through comprehensive negotiations between Russia and the West, according to Kalin.
"What Russia wants is to be respected as a major player and to [avoid] having NATO in their backyard. Russia is interested in a new international architecture, security guarantees," he said.
Moscow has repeatedly signaled its readiness for peace talks, saying it would prefer this to continuing hostilities, while accusing Ukraine of a lack of engagement.
"Under the circumstances, in which Westerners are apparently not prone to allowing Kiev to show any flexibility on the issue, we cannot say that there is any potential [for negotiations] at the moment," Kremlin spokesman Dmitry Peskov said earlier this week.
Ankara has sought to be a mediator in the conflict, maintaining ties with both Kiev and Moscow, while refusing to take part in the Western sanctions on Russia. Shortly after the conflict began early last year, Türkiye hosted direct talks between the two sides, but the negotiations did not lead to any tangible results.
You can share this story on social media: