EU sees record number of illegal immigration attempts
Nearly half of the 330,000 crossings were made by Afghans, Syrians, and Tunisians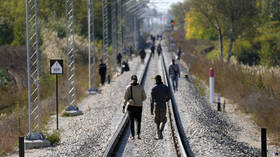 More attempts were made to enter the EU illegally in 2022 than in any year since 2016, the bloc's border and coast guard agency, Frontex, announced on Friday. The figure of 330,000 does not include others who applied for asylum legally or refugees who came from Ukraine.
Some 145,600 entry attempts were made over land via the Western Balkans, Frontex said, with the second-largest number, 102,529, undertaken by sea in the Central Mediterranean region. Altogether, 330,000 crossing attempts were recorded, an increase of 64% from 2021.
More than 80% of the attempts were made by adult men, with women accounting for fewer than one in ten detections and children accounting for 9%. Afghans, Syrians, and Tunisians comprised 47% of all crossing attempts.
Frontex's figures count individual crossing attempts rather than individual migrants, as many travel without passports and some try to enter the EU multiple times in a year. Accordingly, the number of individuals who attempted to cross the bloc's borders may be lower than 330,000.
Regardless, 2022 saw more people attempting to enter the EU illegally than in any year since 2016, when Frontex counted nearly 2 million crossing attempts. With the Syrian Civil War in full swing at the time, the EU saw an unprecedented influx of mostly Middle Eastern migrants, whom the bloc's members are struggling to accommodate and integrate to this day.
Aside from the challenges of housing and policing the new arrivals, the 2015-2016 surge opened up a regular pathway for future migrants, fueling the human trafficking industry and forcing Brussels to consider hardening the bloc's external borders.
Frontex's figures do not count those who legally sought asylum in the EU last year. While the bloc has not yet published its asylum application figures for the entire year, almost 790,000 applications were made in the first ten months of 2022, EU Asylum Agency chief Nina Gregori told German media in December. Around 37% of these applications were accepted, based on data from October.
Separately, nearly eight million Ukrainian refugees have fled to the EU and other European states – including Russia – since February. Just under five million have been granted temporary or permanent protection, according to United Nations data.
You can share this story on social media: