Record numbers of migrants entered UK by sea in 2022
Successive conservative governments have failed to tackle the surge in illegal immigration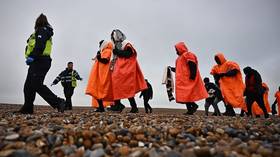 More than 45,000 illegal immigrants entered the UK last year by crossing the English Channel in small boats, according to government figures released on Sunday. Britain has attempted to pay France to stop the crossings, as legal action stymied its plan to deport the migrants to Rwanda.
Two boats carried 90 people across the Channel to the UK on Christmas Day, bringing to 45,756 the total number of migrants to make the journey in 2022, up from 28,395 in 2021. No further crossings were recorded before New Year's Day, the Ministry of Defense noted on Sunday.
Since crossings first began to rise in 2018, the majority of the migrants came from Iran, Iraq, and a number of other middle-Eastern countries. However, 42% of all arrivals in the second half of 2022 came from Albania, a country that is considered "safe" by the British government.
Britain is currently spending £5.5 million ($6.6 million) every day to house migrants in hotels, although Prime Minister Rishi Sunak said last month that his government would soon house 10,000 in disused holiday parks, student halls, and surplus military sites.
Sunak, as well as his predecessors Boris Johnson and Liz Truss, have all promised to reduce the numbers crossing the Channel, but have thus far failed. Johnson's Home Secretary, Priti Patel, signed a deal in April where Rwanda would take planeloads of migrants while their asylum claims were processed, but legal action by pro-immigration NGOs halted this plan.
Although the High Court ruled the policy lawful in December, legal appeals are ongoing and no flights have left the UK yet. Speaking to the Daily Mail last month, a government spokesperson refused to say whether any deportations would happen in 2023.
Home Secretary Suella Braverman announced in November that Britain had struck a deal with France where her government would pay the French €72.2 million ($74.5 million) per year to step up patrols on the opposite side of the Channel. However, three such deals have been signed in the past three years, and crossings have still increased annually.
Speaking after the signing of the agreement, Sunak admitted that the deal won't "magically solve" the issue.
You can share this story on social media: