NATO ramps up presence in Ukraine's neighbor
The bloc's AWACS spy aircraft are set to arrive in Romania to keep an eye on Russia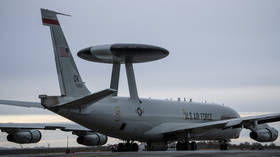 NATO will send a deployment of Airborne Warning and Control System (AWACS) surveillance planes to Romania to "monitor Russian military activity" amid the Ukraine conflict, the US-led military bloc announced on Thursday.
In a statement, NATO said its "eyes in the sky" are expected to arrive in the Bucharest area on January 17, to strengthen the bloc's presence in the region. Romania, which borders Ukraine, already hosts a number of NATO units, including the American 101st elite Airborne division.
The bloc did not specify how many planes will be stationed in Romania. However, the German press agency DPA reported that NATO plans to deploy three AWACS there.
The AWACS planes will begin reconnaissance flights, which will take place only over the alliance's territory, in the coming days, with their mission scheduled to last "several weeks." In addition, the surveillance mission will be supported by about 180 service members, who will be deployed at the Otopeni air force base near the Romanian capital, some 200km (124 miles) from the Ukrainian border.
The planes themselves are part of a fleet of 14 NATO surveillance aircraft usually based in Geilenkirchen in western Germany. These aircraft are equipped with long-range radar and passive sensors capable of detecting targets over large distances while staying in the air for hours.
The US-led military bloc has been conducting regular surveillance operations on its eastern flank, monitoring the conflict in Ukraine ever since Russia launched its military offensive against the neighboring state in February 2022.
The deployment of AWACS planes comes as a large number of US armor and military vehicles started to arrive in the Netherlands on Wednesday before heading out to NATO's eastern flank, according to Reuters. In total, about 1,250 pieces of military equipment are said to be disembarking from the Dutch port of Vlissingen, US officials said.
On Monday, Nikolay Patrushev, the secretary of Russia's national security council, stated that the ongoing Ukraine conflict "is not a confrontation between Moscow and Kiev, but rather a military stand-off with NATO."
You can share this story on social media: