Indian town rapidly sinking – space agency
An endangered Himalayan settlement has dropped 5.4cm in days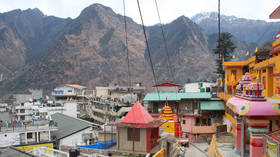 The Indian town of Joshimath, known as a gateway to the Himalayas, sank by 5.4cm, sometime between late December and early January, the Indian space agency has reported. The popular tourist destination, at an altitude of over 6,000 ft (1800 meters), is prone to subsidence, partially due to infrastructure development.
A report by the Indian Space Research Organisation (ISRO) released on Wednesday detailed changes detected by satellite observation of Joshimath, revealing that a rapid subsidence event had taken place sometime between December 27, 2022 and January 8, 2023.
The region's chief minister, Pushkar Singh Dhami, ordered a mass evacuation after a 603 buildings in the town were found to have deep cracks.
Recorded elevation changes varied between 1 and 5.4cm, the data shows. ISRO observations over the past year have detected a slow subsidence of up to 9cm over a period of nine months, the report said.
Joshimath is located in the northern Indian state of Uttarakhand on the slope of a hill and is a popular destination for pilgrims and tourists who visit the areas many temples.
However, the settlement sits atop inherently fragile Himalayan geology and a treacherous environment. Thousands of people have been killed over decades by natural disasters such as earthquakes, landslides, flash floods, and avalanches. The Uttarakhand floods in February 2021 alone claimed over 80 lives.
Subsidence has affected Joshimath for some time, with the impact magnified by the depletion of groundwater for irrigation and the rapid development of infrastructure, including the construction of hydropower plants, according to scientists.
You can share this story on social media: