Poland issues update on deployment of German-supplied Patriots
The weapons could arrive any day now, the deputy defense minister has indicated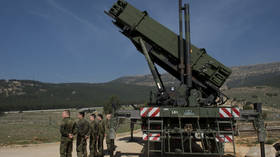 Warsaw is set to receive US-made Patriot air defense systems from Berlin in the near future, Deputy Defense Minister Wojciech Skurkiewicz said on Thursday. Germany offered to station Patriots on the nation's territory in November, after a stray Ukrainian missile killed two Polish civilians.
Speaking to the IAR press agency, Skurkiewicz said the missile launchers could arrive in the country any day now, and that they must be "plugged into" the Polish command structure.
The Patriots will be accompanied by German service members and will be stationed in the Lublin region, which borders Ukraine. According to IAR sources, Berlin has already sent working groups to Poland to prepare for the arrival of the main forces after the weekend.
In total, 400 German soldiers are expected to be deployed to Poland.
Warsaw asked Berlin to send Patriot systems to Ukraine and to deploy them to its western border after a Ukrainian missile fell on the village of Przewodow, killing two civilians. Initially, Poland blamed Russia for the incident, sparking fears of a global conflict between NATO and Moscow. Later, however, Warsaw said it was likely fired by Kiev's forces.
Germany rejected Poland's request to station Patriots in western Ukraine, saying the weaponry is designated for the NATO members' defense, and offered to station the missiles in Poland instead.
Earlier this week, Polish President Andrzej Duda announced the transfer of German-made Leopard 2 tanks to Ukraine. Polish officials said that this unprecedented move, which still has to be approved by Berlin, is intended not only to support Kiev's forces in the conflict with Russia, but also to pressure Warsaw's allies into following suit.
Germany has so far been reluctant to send main battle tanks. Chancellor Olaf Scholz has repeatedly argued that no other NATO country has made this type of weaponry available to Ukraine. On Thursday, German Defense Minister Christine Lambrecht reiterated that Berlin has not yet made a decision on Leopard 2 deliveries for Ukraine, adding that the proper approach would be to "rule out nothing."
You can share this story on social media: