Poland explains decision to send Western-made tanks to Ukraine
Warsaw wants not only to support Kiev, but to push others to do the same, a government spokesman has said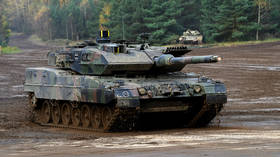 Poland is to transfer Leopard 2 tanks to Ukraine in a bid to press other nations to follow in its footsteps, government spokesman Piotr Muller said on Wednesday. His comments came after Warsaw announced it would give a company of the heavy tanks to Kiev "as part of coalition building."
Speaking to the TVP Info TV Channel, Muller argued the transfer was a form of self-defense. "If we do not defend Ukraine's independence, we are the next target. This has to be said directly," he said.
He said another reason for the unprecedented move to support Kiev with German-made armor was "to enforce certain behaviors" by other states. "We want to force other countries to do the same," the spokesman explained.
The Polish tank transfer to Ukraine must still be approved by Berlin. Germany has so far been reluctant to send the Leopard 2 to the conflict zone, despite mounting pressure both at home and abroad. Chancellor Olaf Scholz has argued that no other NATO country has made such weaponry available to Ukraine, and Germany should not be the first one to do so. He also stated that any such moves should be coordinated with allies.
Muller noted that international pressure had already pushed Germany to increase its military support for Ukraine. He recalled that at the start of hostilities in the country, Berlin was not willing to give any arms to Ukraine, but after being nudged on the issue, it had changed its stance.
Russia has repeatedly warned the West against supporting Ukraine with arms, arguing that it would only prolong the conflict. On Thursday, Russian Foreign Ministry spokeswoman Maria Zakharova reiterated that Western weapons sent to Ukraine, as well as any foreign personnel operating them, "are legitimate targets for Russia's armed forces."
"If the West pretends that they don't know that, that's their problem," she added.
You can share this story on social media: