Most doctors in EU country's capital consider quitting – poll
Critical staff shortages resulting in widespread burnout are reportedly to blame for growing disillusion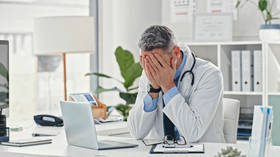 More than two-thirds of doctors in the Austrian capital, Vienna, "regularly" consider resigning, a survey conducted by the Vienna Medical Association revealed on Tuesday. Respondents cited the seemingly insurmountable problems of overwork and understaffing.
Three in four doctors surveyed complained their workload was too heavy, while a quarter claimed their employer did not provide required breaks. Pessimism reigns supreme, with 91% doubting the punishing workload will improve in the future and over half (55%) expecting an even greater workload to come.
Just under half (48%) want to change from public to private practice, complaining about "having to greet patients as if they were on an assembly line," according to VMA Vice President Stefan Ferenci.
"If the Vienna city government does not act now, the hospitals will soon be empty," he said, noting that the mood among doctors has declined even further over the past several months.
Nearly a third (30%) of respondents want to get out of the medical industry altogether, while 23% would content themselves with moving to another state or country and 22% would consider going into health insurance. A significant minority report confronting burnout – 40%, according to the survey.
Another industry survey conducted last month suggested the Viennese healthcare system's problems stemmed from too many bureaucrats and not enough nurses, with 75% of hospital doctors claiming to be "permanently burdened" with a stressful workload. More than half (54%) blamed nursing shortages, while 44% pointed to bureaucracy as the primary cause of that stress; 84% reported an "ongoing and lasting" decline in the quality of patient care.
Austria adopted some of the strictest Covid-19 medical mandates in the world during the pandemic, imposing mandatory vaccination for all citizens last February. Violators would be fined every three months, with the total amounting to over $4,000 per year, and barred from entering public places. However, that policy was dropped the following month.
You can share this story on social media: