US Republicans outnumber Democrats for first time in decades – poll
The largest proportion of US citizens still identify as independents, according to the most recent Gallup survey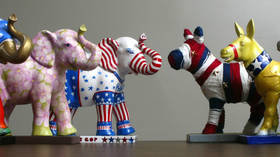 More Americans identify with the Republican Party than with the Democratic Party for the first time in over three decades, according to a Gallup poll published Thursday. Some 45% of respondents said they were Republicans or Republican-leaning independents, while 44% identified with Democrats.
Independents – those who identify with neither party – continue to outnumber members of either party, claiming 41% of respondents as opposed to 28% each for Republicans and Democrats. However, the number of independents who "lean" towards the Republican Party inched ahead of those who lean Democrat in the poll, conducted late last year.
It is reportedly the first time since Gallup began regularly measuring Americans' political identification in 1991 that those who identify most with Republicans have outnumbered their Democratic counterparts. Previously, the closest the GOP had come to dominating the sympathies of the electorate was during the period following the September 11 attacks (2001 to 2003) and during the Tea Party movement's heyday (2010 to 2011).
At the same time, more self-identified independents describe themselves as "moderate" (47%) than consider themselves conservative (30%) or liberal (21%), according to another Gallup poll published Thursday. While Republicans have remained ideologically consistent, with 72% identifying as conservative, the percentage of Democrats identifying as liberal increased four points to 54% this year, a shift seen across all demographics.
Overall, 35% of Americans described their political outlook as moderate, followed by conservative (27%) and liberal (18%). About the same percentage identified as "very conservative" and "very liberal" (9% and 8%, respectively). These numbers have remained largely steady since 2015, according to the pollster.
Despite outnumbering their Democratic peers, Republicans were unable to parlay these gains into electoral victory in November's midterm elections, though they did narrowly manage to retake control of the House of Representatives.
You can share this story on social media: