Special counsel to investigate Biden
As of Thursday, the president and his predecessor are both under investigation over the apparent mishandling of classified files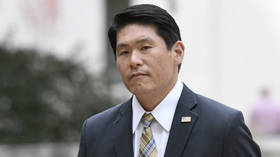 US Attorney General Merrick Garland has appointed a special counsel to probe President Joe Biden's handling of classified documents. The White House has confirmed that Biden stored two batches of sensitive files in his garage and at a university office.
Speaking at a Justice Department press conference, Garland named federal prosecutor Robert Hur as the special counsel, claiming that Hur would "carry out his responsibility in an even-handed and urgent manner."
Appointed US Attorney for the District of Maryland by former President Donald Trump in 2017, Hur resigned from that post shortly after Biden took office. He previously worked with FBI Director Christopher Wray, who despite also being appointed by Trump, has been accused by the former president and his allies of "weaponizing" the agency to persecute conservatives.
As Maryland's chief prosecutor, Hur led an investigation into the theft of classified information by two National Security Agency contractors, securing prison time for both.
White House counsel Richard Sauber confirmed this week that Biden's lawyers had discovered classified documents at an office at the Penn Biden Center for Diplomacy and Global Engagement, a think tank affiliated with the University of Pennsylvania, in November. Dating from Biden's time as vice president, the documents included sensitive information on Ukraine, Iran, and the UK, CNN reported on Tuesday.
Sauber also confirmed that a second box of secret documents was found in a garage at Biden's Delaware home, and another single file inside the property. Garland said that he authorized a preliminary investigation into the documents in November, before deciding to name Hur special counsel.
With Hur's appointment, both Biden and Trump are now under investigation for unauthorized removal of classified documents or material. Trump's Mar-a-Lago estate in Florida was raided by armed FBI agents last August in a pre-dawn operation that recovered hundreds of government documents.
Trump claims that he declassified the files before taking them to Mar-a-Lago, and accused the Biden administration and FBI of orchestrating a "witch hunt" against him.
You can share this story on social media: