Charge against ex-Catalan president dropped
No longer accused of sedition, Carles Puigdemont remains on the hook for embezzlement and disobedience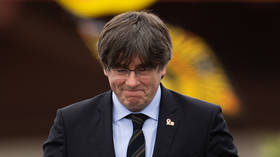 A Spanish Supreme Court judge has dropped sedition charges against former Catalan President Carles Puigdemont and four other separatists involved in the region's 2017 independence effort. Judge Pablo Llarena explained in a statement on Thursday that changes to the country's sedition law meant it no longer applied to their actions.
Charges of embezzlement and disobedience against Puigdemont remain, carrying a jail sentence of up to eight years. The former Catalan leader fled to Belgium in 2017 after Catalonia's failed secession bid. He has served as a member of the European Parliament since 2019, fending off repeated efforts by Madrid to extradite him. Puigdemont was granted political asylum in Morocco in 2021.
Llarena pledged to submit a new extradition request to Belgium regarding the lesser charges, so long as the European courts do not decide Puigdemont has immunity.
Spain canceled its sedition law last year in what media have described as an attempt by Prime Minister Pedro Sanchez to shore up support for his minority government by ingratiating himself to Catalan political parties. The PM also pardoned several separatist politicians who had been imprisoned over the events of 2017. However, his desire for rapprochement has apparently stopped short of a willingness to greenlight an independence referendum.
Puigdemont and other Catalan leaders were accused of fomenting 'rebellion' by promoting and holding the 2017 independence vote in spite of a Spanish court ruling it illegal. Puigdemont countered that Madrid used "high-level political espionage" and other "very sophisticated" tactics against the Catalan independence movement.
He claimed in 2021 to have evidence of a coordinated "repression strategy" against himself and other regional leaders that included tracking devices planted on their vehicles and "fake news" spread about alleged Russian connections.
You can share this story on social media: