France refuses to apologize to former colony
Paris should acknowledge its checkered past in Algeria, but an apology wouldn't fix anything, the president said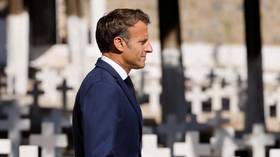 French President Emmanuel Macron has told the Le Point news magazine that he doesn't feel the need to apologize for his country's violent colonization of Algeria. While Macron has recently addressed relations with the former subject, a former French ambassador to the country warned that a soft touch with Algiers could spell doom for France itself.
In an extensive interview published on Wednesday, Macron described the topic of Franco-Algerian relations as "an intimate subject for everyone," but a particularly "traumatic" one for Algeria.
France invaded Algeria – then a hub of piracy ruled by an Ottoman satrap – in 1830, and spent the next century settling the North African nation with hundreds of thousands of white Europeans. Muslim rebellions were quashed, and French forces tortured, murdered, and displaced hundreds of thousands of locals. The occupation ended in 1962 only after up to 1.5 million Algerians had been killed in an eight-year war of independence.
"I don't have to apologize" for these events, Macron told the magazine. "There was a war. Apologies or no apologies, that doesn't fix anything."
Macron argued that apologizing would not settle any of Algeria's grievances. Instead, he proposed that the two countries set up a joint commission of historians to discuss the "crimes of colonization" with "no taboos," while France admits responsibility for some of the brutal episodes of its past, as Macron has already done on several occasions.
"We carry our past whether we like it or not," he said. "I think that Algeria cannot think of itself without its relationship to France and that France can no longer think of itself without its relationship to Algeria."
Two years ago, Macron angered Algerian President Abdelmadjid Tebboune when he condemned what he called an institutionalized "hatred of France" in the former colony, and asked whether there "was an Algerian nation before French colonization." Tension between Paris and Algiers at the time was heightened by a French decision to cut visas for Algerians amid Algeria's refusal to take back deported illegal immigrants.
The French leader visited Algeria in August, during which he pledged to "deepen bilateral relations…and pursue the work of addressing the past." The trip to the gas-rich country also coincided with a Europe-wide scramble for new energy sources after the EU voluntarily embargoed Russian fossil fuels.
However, France's former ambassador to Algeria, Xavier Driencourt, wrote in Le Figaro on Sunday that reconciliation with Tebboune's government would be a mistake. He claimed that doing so risks validating Tebboune's "anti-French discourse" and solidifying the nationalist leader's rule, which Driencourt argued is running the Algerian economy into the ground and driving political opponents to flee.
The "collapse" of Algeria could see millions of Algerians flee for France, where most have at least one family member already, he continued, arguing that such an influx would "trigger the collapse of France."
You can share this story on social media: