Police officer burned to death as Peru protests persist
An angry crowd torched a patrol car a day after 17 civilians died in a clash with the authorities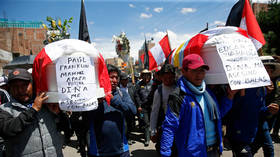 The government in Lima confirmed on Wednesday the death of the first police officer since protests over the ouster of President Pedro Castillo began last month. Protesters in the southern city of Juliaca ambushed a patrol car after 17 local civilians were killed the day prior in a confrontation with police.
Officer Jose Luis Soncco Quispe's burned remains were found near the patrol car that was attacked on Tuesday morning, Peru's Interior Ministry said. His partner, Ronald Villasante Toque, was injured and flown to a hospital in Lima. In a telephone report to headquarters, he said over 300 people had launched a "savage attack" on the police vehicle.
Initial reports also claimed that the attackers had seized the officers' body armor and weapons, including two service pistols and an AKM assault rifle. However, the police later said the weapons were found inside the torched patrol car.
Juliaca is in southeastern Peru, near Lake Titicaca and the border with Bolivia. On Monday, at least 17 civilians were killed and 30 more injured in clashes with Peruvian National Police (PNP) near the local airport. At the funeral procession for the dead on Wednesday, protesters decorated their caskets with handwritten notes, declaring "Dina murdered me with bullets," referring to acting President Dina Boluarte.
Interior Minister Victor Rojas said the deaths resulted from legal self-defense by the officers from some 9,000 people he claimed had tried to storm the airport and attacked the police with makeshift guns and explosives. It became "impossible to control the mob," Rojas said, accusing the protesters of wanting to create "chaos upon chaos."
Castillo was arrested and impeached on December 7, after he tried to dissolve Congress and call an early election. The lawmakers charged him with rebellion and promoted vice president Boluarte in his stead. Castillo's supporters consider this an illegitimate coup against democracy. Peru has had five presidents in the past five years, with Congress citing the "moral incapacity" provision of the constitution to remove from office those not to their liking.
Tweeting from jail on Tuesday, Castillo said history will remember Peruvians "murdered for defending the country from the coup dictatorship," and that "terror is the last bullet of a regime cornered by the people."
At least 47 people have died in connection with the protests, according to official government figures published on Tuesday. This includes the officer, 39 protesters, as well as seven civilians who perished in "traffic accidents linked to protest roadblocks."
Police General Maximo Ramirez de la Cruz said last week that over 300 police officers had been injured in clashes with demonstrators, 19 of whom ended up in the hospital.
You can share this story on social media: