UK to send tanks to Ukraine
Once considered a step too far, the supply of heavy tanks to Kiev is now being publicly discussed by multiple Western states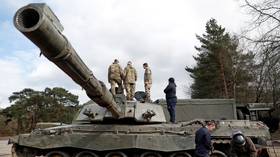 Britain will provide Ukraine with main battle tanks, a spokesperson for Prime Minister Rishi Sunak told reporters on Wednesday. The statement came after Poland said it would transfer German-made tanks to Kiev's forces, with Berlin's permission.
The spokesman said Sunak had asked Defense Secretary Ben Wallace to "work with partners" to go "further and faster with our support for Ukraine including the provision of tanks."
A formal announcement will likely be made in conjunction with several of Britain's NATO allies, as was the case last week when the US, France and Germany all announced together that they would send infantry fighting vehicles to Ukraine.
US officials have already said that they would not send American-made M1 Abrams tanks to Ukraine, citing the vehicles' burdensome maintenance requirements. However, Poland announced on Wednesday that it would supply Kiev with a number of German-made Leopard tanks, a decision that requires a green light from Berlin.
While the German government officially has no plans to donate any of its own Leopards, Economy Minister Robert Habeck said on Monday that he would not rule out such a step. Meanwhile, Kiev is confident that Germany's apparent caution is illusory.
"Germany will do it anyway at a later date," Ukrainian Foreign Minister Dmytro Kuleba told the Tagesschau news channel on Wednesday. "We have already seen this with the self-propelled howitzers, with the IRIS-T anti-aircraft system and most recently with the Marder and Patriot systems."
Britain's decision was telegraphed to the media in recent days too, with officials telling Sky News on Monday that Sunak's government had been discussing the possibility for "a few weeks," and that the UK "might offer around ten" tanks.
According to Sky, an official announcement may be made by multiple countries on January 20, when the US-led 'Contact Group' for arming Ukraine is scheduled to meet next.
You can share this story on social media: